First of all, Shields didn't force anything in that fight. GSP chose to stand in that fight and Shields never had a chance to take that one to the ground.
A wrestler won't beat GSP, he has defeated them all. Fitch, Koscheck, Huhges etc.
I really don't see GSP losing for a long time and i think his the most well rounded fighter out there.
I think anyone with significantly better wrestling would beat him easy, problem is no one is even close.
there is no "the way of beating GSP" until someone comes along who is actually better than him. Right now there is noone at WW in the world that is a better MMA fighter.
---
Join Date: Jun 2009
Posts: 20,898
Completely disagree. He spent 95% of the Hardy fight wrestling/grappling and dominated. He spent almost all of the Koscheck and Fitch fight's standing, and he completely dominated their as well. Same in the Alves fight.

He wanted to strike with Shields, it was the safer bet, I think the eye coupled with him not wanting to clinch with Shields had a very negative effect on his performance.
nice theory but:

1) The only thing the Shields fight showed is that you need to deliberately poke him in the eye to stand a chance. And even then you'll probably still get tooled. I don't see how GSP got "beat up" except for one cheap ass open hand poke that left him half blind. Might as well tell me the way to beat GSP is to bring in a steel chair and pelt him over the head, it's just as legit.

2) GSP has already destroyed 4 of the best wrestlers in all of MMA, so the part about good wrestlers beating him is out the window.

3) GSP has also destroyed 3 of the best Jiu Jitsu fighters at WW (BJ, Shields and Serra), so there goes the other part.

So really IMO the only person that could beat him other than a lucky punch is someone who has better wrestling and better stand-up. Like a WW Jon Jones maybe (and yes I think Jones has brilliant standup and not sloppy like a lot of people claim).

But such a fighter does not exist at WW. Or even at MW IMO. At MW Anderson has the better standup but doesn't have the TDD or wrestling. Sonnen and possibly Okami have the wrestling but not the standup.
I'd like to see Maia fight gsp, gsp is easily bullied when striking and Maia could sub him.

I'd rate gsp's stats:

striking 6.5
wrestling 10
bjj 7.5
explosiveness 9
cardio 10
---
If a law is unjust, a man is not only right to disobey it, he is obligated to do so. ~ Thomas Jefferson
Sig by D.P.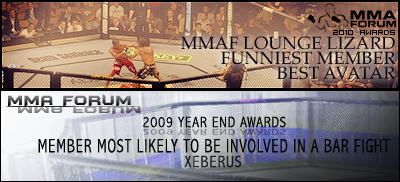 People are giving him 7-8 in his BJJ when he couldn't even execute a proper armbar on Hardy??? And don't "Hardy is tough" lol... He was doing it WRONG IMO.
And yes I know he's a blackbelt... The only guys with way better BJJ at 170 can't wrestle or box at all.
His wrestling is the best in the sport, but it isn't THAT much better than everybody else. He tried to take Koscheck down a couple times and got stuffed.

I the only way to beat him is to have a fighter elite at striking and grappling. Force him to be in a situation where he isn't dominant. I don't see any guys capable of doing that, though.

Or to take a freakin chance against him. His opponents are to blame as much, or more than he is because they just stand there and allow themselves to be jabbed to death. Go for a flying submission, swing for the fences, do something. I realize these are very unlikely to work, but standing there allowing yourself to be outclass definitely won't work.
---
Sig credit: MC
~ Lifetime Membership sponsored by RustyRenegade ~
Bantamweight
Join Date: Sep 2007
Posts: 641
Quote:
People are giving him 7-8 in his BJJ when he couldn't even execute a proper armbar on Hardy??? And don't "Hardy is tough" lol... He was doing it WRONG IMO.
and I'm sure you were the first one to point it out live to all your friends and I'm sure if we do a search you had it posted right after it happened in the fight.
or you saw the vid after the fight with Renzo and are now clinging on to that to try to either discredit or find some chink in the armour that doesn't really exist.
Currently Active Users Viewing This Thread: 1

(0 members and 1 guests)
Posting Rules

You may post new threads

You may post replies

You may not post attachments

You may not edit your posts

---

HTML code is Off

---