Join Date: Oct 2006
Location: Wa
Posts: 2,550
How about they blame alcohal? You can bet they were liqoured up, but hey lets blame it on something completely irrelevant in the UFC. Even if the UFC didn't exist, it's human nature to follow the leader, so if one bad seed wants to tip a car, you can bet the rest of the drunken goons will jump right in to help.
---
_________________________________________________
_________________________________________________
Lightweight
Join Date: Nov 2006
Posts: 1,916
Quote:
Not only do people cheer, but the Refs actually hold people back to let the fight ensue.
If we want to blame a sport ... let see now... how many times has Vancouver been in the final stanley cup playoffs? uh, 2 times... how many times have we had riots during that time? hmmm... see now... 2 times. So we are one for one riot per hockey playoff final... lets see... clearly its the UFC's fault
Vancouver has actually been to the finals 3 times, in 1982 they lost in the finals and there was no riot. In any case obviously the person quoted doesn't like MMA and is grasping at straws to justify not liking it. There would have been a riot win or lose that is something that is common in cities after major sports championship finals.
As for fighting in hockey (and I've played hockey for 30 years) if it is a self policing issue I have no problem with it but in the NHL that is rarely why fights happen. Usually it is two goons and everybody knows before the game happens who the two will be if a fight occurs. That isn't self policing, it is a sideshow and a waste of time. I don't think there is any easy way to somehow distinguish between the two so I'd like to see fighting removed from hockey entirely (I've had maybe 1/2 a dozen fights during my hockey "career" for what it is worth. It wasn't really my role.)
Quote:
How about they blame alcohol?
Honestly?! NO!!!
That's everyone's excuse: everyone who drinks and than commits a crime, ****, fellony...or stuff like this - blames it on the alcohol.
It's wrong.
Everything has to do with education.
Look at this video:
A drunk guy, in the middle of the riot, who acts like a normal person should act. (starting from 2:00).
And check the guy in the hat: how he chickens-out when confronted.
It's typical crowd mentality: even the weakest person thinks he's the toughest SOB when others around him act the same way, but once he's confronted and separated from the crowd, he shows his true colours/value.
Another example here:
And of course, i don't know if you heard/seen this guy:
---
.
BELIEVE!
You're not terribly important to me

Join Date: Jul 2010
Location: Sell me this pen
Posts: 15,507
i kind of wish i was in canada now to beat up these retards but of course i would be majorly outnumbered but i wouldnt care
---
Jim Norton
Nick Dipaolo
Dave Attell
Dave Chappelle
Bill Burr
Joey Diaz
Colin Quinn
Bob Kelly
Rich Vos
Patrice O'Neal
Louis CK
Bantamweight
Join Date: Jan 2009
Posts: 963
Quote:
If the Canucks would have won it would have been the same thing no doubt.

no they wouldn't have, just like they didn't when canada won gold in vancouver last year... if anyones to blame its the retards in vancouver who decided it would be a good idea to have multiple locations through out the city where mass amounts of people could gather together to watch the game on jumbo trons when they already have a passed history of rioting. they should be more focused on keeping people off the streets in those situations
I knew it! Ever since the UFC caused World War II, I knew it was up to no good. The UFC is also responsible for my beloved gerbil, Luke, dieing when I was 8.
If this guy had said this to me I would have back handed him across the face and told him to shut his whore mouth when he spoke about mma.
---
If a law is unjust, a man is not only right to disobey it, he is obligated to do so. ~ Thomas Jefferson
Sig by D.P.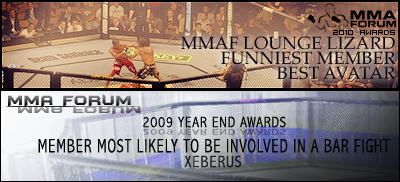 i was in vancouver for the riot, this is the first time ive heard of the ufc being blamed
---
Rep Me...I Will Rep You Back!
You never watched wrestling as kids and went and did it in your backyard or basement?

We sure did. And some of us got really hurt.

Of course MMA encourages kids to fight and cheer each other on in schools, at bars, everywhere. It glamorizes fighting ...more importantly, winning.

The reality is, guys like Dana White think it's cool in a cage with a ref. NOT outside of a class. Whereas wanna-be tough guys think it's badass to walk around all puffed up wanting to fight anyone who looks at them badly.

I guess what I'm saying is, as a MMA fan, it's impossible to deny any of what she's saying. She didn't blame it on the UFC, she was just saying how it's a sport where people celebrate violence. And when you watch those videos, clearly people enjoy spectating, encouraging others to fight for their entertainment.

...EVEN though that has been around a lot longer than the UFC.

All we can hope for as UFC/MMA fans is for the true ambassadors to show their disgust in displays like what happened in Vancouver and show the world who doesn't yet enjoy MMA that it's more than being a tough guy on the street.
Flyweight
Join Date: Jul 2009
Posts: 268
I live in Vancouver and I was in downtown when the riot occurred.

Believe me, the riot has NOTHING to do with the UFC. Absolutely ZERO.

UFC tickets were selling for chump change because of the NHL playoffs. The NHL is GOD here, UFC is jack shit compared to the Canucks. No one gave a shit about it.

The people who started the riot would have started the riot anyways. They came prepared with fuel and matches to burn cars. The riot escalated to where it did because a whole bunch of white and Hindu trash came in from the outskirts of the city to start shit.
Currently Active Users Viewing This Thread: 1

(0 members and 1 guests)
Posting Rules

You may post new threads

You may post replies

You may not post attachments

You may not edit your posts

---

HTML code is Off

---