Frankie Edgar nearly betrayed by his corner at UFC 125
---
If he dies, he dies.
UFC lightweight title-holder Frankie Edgar displayed the heart of a champion when he survived a first round blitzkrieg from division number one contender Gray Maynard in the main event of UFC 125: "Resolution" back on Jan. 1 in Las Vegas.
He not only survived, he stormed back and pulled even with "The Bully" after five rounds of action, forcing a draw and setting up a third (and hopefully final) bout between two of the world's best 155-pounders at UFC 136 later this year.
But if Edgar's boxing trainer Mark Henry had his way, Maynard might have walked out of "Sin City" a champion and undefeated (2-0) against the Toms River, N.J., native. TapouT News asked why.
Here's his "Answer:"
Star-divide
Quote:
"I think that he was just getting a little overwhelmed, a little excited. You know, out of everybody else in my corner, no one felt that it was the issue. I donít think anyone else was callin' for that. I think Mark, he just puts so much into us and heís so passionate that it kinda got a hold of him for that one round. I would have (kicked his ass). I told him afterwards when I heard he was calling for the towel, which I donít think you can throw the towel in in the UFC, which is a good thing. But I told him, 'Dude, donít you ever, ever throw the towel in.'"
Edgar and Maynard were expected to settle their differences in the main event of UFC 130 until injuries forced both fighters to withdraw from the Memorial Day weekend event.
In their absence, the co-main event between "Rampage" Jackson and Matt Hamill was promoted to headliner.
Now with the trilogy concluding at UFC 136 on Oct. 8 from the Toyota Center in Houston, Texas, we may finally have a undisputed lightweight champion.
But with Maynard no longer holding the division hostage, who will emerge as number one contender? Winner of Jim Miller vs. Ben Henderson? Someone else?
Source -
http://www.mmamania.com/2011/6/22/22...-his-corner-at
---

ďThere are three things all wise men fear: the sea in storm, a night with no moon, and the anger of a gentle man.Ē
Damn, I'm sure we're all glad he didn't! I'd be so pissed as a fighter if one of my cornermen threw in the towel. I'm not a huge Edgar fan and was pulling for Gray but that was one of the best comebacks I've ever witnessed and I'm glad we weren't robbed of it.
Imagine how much drama there would be if they threw in the towel but the ref would not stop the fight and would throw the towel back out of the cage without stopping the fight.
Megaweight
Join Date: Mar 2007
Posts: 5,499
I am pretty sure you can throw in the towel, they did it in Cabbage vs Sylvia, and that was under Zuffa ownership and current rules.

The beating Frankie took was bad, but he never looked completely out of it, it was obvious he was in recovery mode. I would have been pissed as hell if I were him.

Guess Frankie is lucky that no one listened to Mark.
You can't throw a towel in under unified rules.
---
WAR CIGANO
sig credit to
Limba
lobster train.
Betrayed? I don't know, Edgar got dropped about four times in that first round alone, can't really say I blame the guy for wanting to, as fans we can sit here and say we wouldn't and such but when you're like that, close to a fighter and such it does make you think about it as you're friends with this guy and don't wanna see him get beat down. Very glad they didn't throw in the towel, and while I'm far from a fan, I give Edgar a lot of props for his performance in that fight, one of the best fights of all time as far as I'm concerned, my heart was racing when Maynard dropped him.
The fact that Frankie came back after that first round shows you how tough the guy really is. I am really hoping that Gray can finish where he left off and put him away this time! If Gray abandons his wrestling and this fight goes the distance I see Frankie winning.
I honestly thought it was going to get stopped he showed me alot but BETRAYED is the wrong word since they were looking out for him.
---
Bisping Fan extraordinaire
Velasquez will be back
Quote:
You can't throw a towel in under unified rules.
Yes you can. It ends in a DQ for the person who's corner threw it in. It's not explicitly stated in the rules, but there is a rule that lands a foul for any "Interference from a fighters seconds." It's sort of a blanket rule so they can call things like the seconds interfering with the fight ever a foul (Included but not limited to things like shouting obscenities (also against the rules) all the way up to grabbing an opponent or anything like that).
Quote:
24. Interference from a mixed martial artists seconds

Interference is defined as any action or activity aimed at disrupting the fight or causing an unfair advantage to be given to one combatant. Corners are not allowed to distract the referee or influence the actions of the referee in any fashion.
http://www.abcboxing.com/unified_mma_rules.html
Quote:
You can't throw a towel in under unified rules.
UFC 94?
---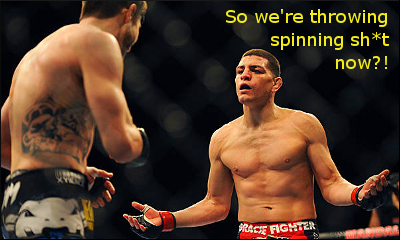 Currently Active Users Viewing This Thread: 1

(0 members and 1 guests)
Posting Rules

You may post new threads

You may post replies

You may not post attachments

You may not edit your posts

---

HTML code is Off

---