This fight makes the most sense right now for Bader...though I think Hamill would take the win.
---
vBookie Record: 16-9

Current vBookie Bets:

Fight makes sense but in reality their wrestling would stalemate and we'd just see two shitty boxers in a slap fight.
I can see this fight happening.

Bader kinda has his back up against a wall and if he loses to the guy who decisively beat Tito this would make it 3 losses in a row. I think Bader will come back strong in his next fight and win. He is still very young and has a long ways to go. With wins over Lil Nog and Jardine it proves he is NOT over rated like others claim. Bader probably learned a lot from his losses to Jones and Tito. He will be back.
Maybe if its on the prelim i dont want to see it on a main card unless its a fight night / versus.
---
Bisping Fan extraordinaire
Velasquez will be back
NO!
Bader vs Cane.
Bader vs Diabate.
Bader vs Soszynski.
Much better.
Quote:
Two big slow guys hugging each other for 3 rounds because neither will want to risk eating the power punches of the other.
Pure excitenent, isn't it?!
---
.
BELIEVE!
Quote:
NO!

Bader vs Cane.
Bader vs Diabate.
Bader vs Soszynski.

Much better.



Pure excitenent, isn't it?!
Now THAT would be a fight!
---
Thanks to limba for this AWESOME sig
Welterweight
Join Date: Jul 2008
Posts: 2,229
I wouldn't want to watch this fight, but it makes the most sense for both fighters at this juncture in their careers. If Hamill were to finish Bader, though, you'd have to think he would be cut.
meh im inbetween

hamill, bader and tito have similar styles.

hamill is better in everyway than tito, and tito just knocked bader the **** out and when he came back he choked him the **** out.

actually i have no interest in this fight, bader doesnt deserve hamill at this point imo
---
If a law is unjust, a man is not only right to disobey it, he is obligated to do so. ~ Thomas Jefferson
Sig by D.P.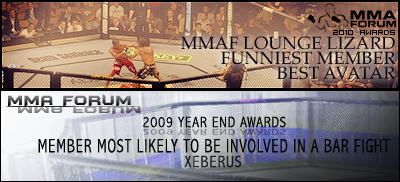 Currently Active Users Viewing This Thread: 1

(0 members and 1 guests)
Posting Rules

You may post new threads

You may post replies

You may not post attachments

You may not edit your posts

---

HTML code is Off

---