BJ Penn: Fans Want Finishes
---
I think that's an idea. But when you take out the judges and decisions you turn it more into a fight and less into a sport/competition. It means you can't play it safe and you have to focus on stopping the guy rather than controlling him, grinding on him and outpointing the other guy while just trying to survive. Also this trend of thought favors strikers IMO, a good striker with power has a better chance at a stoppage than a good grappler.

I can't say it wouldn't make it more exciting or show who the better fighters are but it would change everything.
---
If a law is unjust, a man is not only right to disobey it, he is obligated to do so. ~ Thomas Jefferson
Sig by D.P.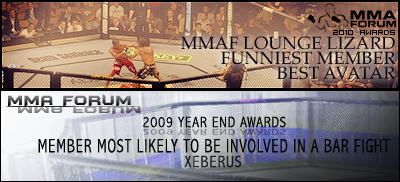 Kinda makes sense actually... with the only way to win being to finish the other guy... every fight would actually be a fight rather than a tactical snooze fest with a dose of dry humping.

These days controlling someone is considered fighting.
I agree with Penn.

It would stop all stalling, stop people fighting safe and fighitng for points. You'd actually have martial artists fighting, rather than martial artists trying to win a match in a sport.

That's the thing, though, you exchange the sport part for the fighting. More exciting? Probably yes. More finishes? Definitely. However, this takes away the "sport" out of it.

It wouldn't change anyways, there will always be judges and decisions, just part of the 1 vs 1 fighting game.
Bantamweight
Join Date: Dec 2007
Posts: 797
Or you can always give up after the bell rings.
Heavyweight

Join Date: Sep 2007
Posts: 3,705
I dont care if a fight doesn't have a finish in it. I enjoy watching a technical ground game just as much as I do watching a striking clinic.

For example, the last UFC main event, Faber vs Cruz. That fight had me glued to the screen for practically 25 minutes. Did it need a finish? not in my books.
I hate fantasy based convos such as these because no matter how good or bad his idea is no athletic commission will sanction it
---
To Live is 2 suffer, 2 survive? well that is 2 find meaning in the suffering
Featherweight
Join Date: Aug 2010
Location: Sydney
Posts: 1,099
This is actually a very good point.

Like Pride, at least fights should be judged on their entirity.

This is not boxing which is called 'the sweet science' for a reason. This is meant to be the 'ultimate fighting championship'. It is to see who the best fighter is.

Then you get it taking the boxing scoring methods, where in boxing you have 12 rounds. Having the same system in MMA is stupid, a 1 point deduction costs you 33% of the points in the fight (assuming no 10-8 rounds) whereas in boxing it costs you about 8%. It doesn't make sense to apply scoring per round or you get stupid things like a guy going for a takedown in the last 30 seconds to score points.
Totally agree with BJ. I love the idea that the guys with the most finishes automatically get paid more than the others.
---
Rookie Hammer Squad 2015
Frankie Edgar - Dominick Cruz - Jorge Masvidal - Cat Zingano - Holly Holm
Currently Active Users Viewing This Thread: 1

(0 members and 1 guests)
Posting Rules

You may post new threads

You may post replies

You may not post attachments

You may not edit your posts

---

HTML code is Off

---