Who knows where Zuffa would be without the exposure they got from Spike
I'll never forget watching Bonner/Griffin on the old school spike.....I guess I was 14 back then time is flying
Thanks spike! Just please stop playing CSI re-runs that show is crap now
I got tired of watching 1000 ways to die and star wars reruns anyway.
---
"Let them see that their words can cut you, and you'll never be free of the mockery. If they want to give you a name, take it, make it your own. Then they can't hurt you with it anymore." - Tyrion Lannister
Quote:
Am i the only one that likes Spike?? I guess that channel was built with manly men in mind so its no surprise i would like it.
(Joking)
Lol if i was a paid member that would be my signature. haha
Probably been asked dude but how come you're not a paid member? What with your post count and joining date?
---
Watch The Trews! True news! Subscribe here!!


https://m.youtube.com/user/russellbrand
Welterweight
Join Date: Jul 2008
Posts: 2,231
**** Spike TV, it's absolute garbage and now that the UFC left its sorry ass it will probably go down the toilet as it should.
Man. Idk why, I just feel sad about this. I feel like a part of Spike will be gone without UFC...
Quote:
Why would they need the UFC anyway. They just signed Blue Mountain State for another season.

Then they got deadliest warrior, manswers, and 1000 ways to die. Spike is doin awesome.
lol.. im not entirely sure if that was a joke or not..
but blue mountain state is actually an okay show. unlike deadliest warrior, manswers, 100ways to die.. some of the worst tv out there imo and im their target demographic.
im glad spike helped the ufc out.. but.. the ufc kind of outgrew them and without the ufc being shown on spike i doubt ill ever go there again.. save a rerun of rambo 1st blood etc
---
If a law is unjust, a man is not only right to disobey it, he is obligated to do so. ~ Thomas Jefferson
Sig by D.P.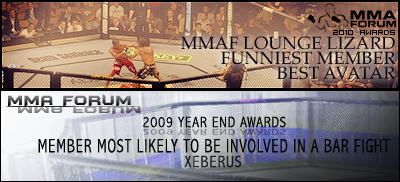 Currently Active Users Viewing This Thread: 1

(0 members and 1 guests)
Posting Rules

You may post new threads

You may post replies

You may not post attachments

You may not edit your posts

---

HTML code is Off

---