Super Heavyweight

Join Date: Sep 2008
Posts: 4,364
Quote:
Besides kicks and wreslting tell me something else he lacks?
Wrestling is all it is going to take...
Diaz can't stop a takedown to save his life and he is fighting the best takedown artist in the game...
Diaz has ok but highly overrated BJJ, it will be enough for him to survive at least for a while but not near enough to end the fight or even to be able to use it to get back standing. GSP is far too strong of a wrestler and is too well versed in BJJ. Diaz has only ever submitted horrible fighters and medicore fighters that were gassed or hurt.
Diaz could be the best well rounded fighter in the world outside of his wrestling but he would still lose this fight because wrestling is what he is going to need. The only way he stands a chance against GSP is if he can goad him into a stand up fight, and even then I think GSP would pick him apart from a distance instead of playing Diaz's games.
Hate is a strong word, dissapointed is more appropriate.
---
Quote:
What makes you say that? Nick has shown top notch cardio in all of his fights as well as fast recovery. He's been rocked repeatedly and still kept his pace. That, to me, is a sign of amazing cardio.

If Nick doesn't have good cardio, who the hell does?
I'm not saying he has bad cardio... I just said he particular method of training is less effective in MMA. Or maybe that there are more efficient things he could be doing with his time.
The only reason I bring this up is some people seem to think Diaz has a cardio edge on GSP. Sure... maybe if they were trying to run a marathon... but in a fight, not at all.
Bantamweight
Join Date: Mar 2009
Location: Ottawa
Posts: 937
Quote:
Diaz is a fighting fans favourite. If you like watching fights, you love Nick Diaz. He is the definition of a born fighter.

He had his hands by his waist when he was fighting Paul Daley for christs sake. Literally just stood in font of Paul with his hands down, taunting him. He shouldn't be doing things like that against striker's like Daley, but he does. How can you not love Diaz?

GSP for a few years now has been incredibly boring to watch and seems to have a major lack of killer instinct.

People see this playing safe strategy as an indication that GSP has evolved and improved over the years, I actually see it as the opposite. I think Pierre is mentally weak and that his major lack of self confidence and killer instinct is going to cost him some day. What better fighter to expose those particular holes than Nick Diaz himself?
Lol. So according to you, when GSP got knocked out by Serra that was the best he's fought in years? lol.
He lost to Serra because he did what Diaz did, got overconfident and dropped his gaurd. Diaz has already lost more fights in his career than GSP will ever lose because of that, and that's fighting second rate fighters.
GSP will do what he always does, make his opponents look helpless and ineffective, even when they are some of the best in the world. He did it to Penn, Hughes, Alves, Kos, he will do it to Diaz.
This will be a boring fight, but not because of lay n pray, it will be boring because Diaz is worse by an order of magnitude than half a dozen fighters GSP has already beaten. Beating guys like Lawlor and Daley doesn't make you an elite fighter, beating guys like Hughes, Penn and Fitch makes you an elite fighter.
RNC - the fighting mans lullaby

Join Date: Sep 2008
Location: Somewhere between Hell and Earth
Posts: 1,849
Quote:
Needs to stop, its so stupid. If you don't like the guy that's fine but Nick Diaz has no chance what so ever against GSP.

Miller
Trigg
Sherk
BJ x2
Hughes x2
Koscheck x2
Fitch
Serra
Alves
Hardy
Shields

Okay lets look at this, does Diaz have better BJJ then Shields? No, he doesn't even have better wrestling than him. Does he have better stand up then Alves? No. How about his triathlon cardio, surely its better then Sherks cardio right? Wrong. Does he hit harder then Hardy, no. Is his guard more active then BJ's? No. How about his wrestling? Better then Hughes, Serra, Fitch, Koshcheck? No. His BJJ isn't even better than Millers. How about technical striking, better then BJ? NO!
Sorry bud, but MMA doesnt work that way. Does Serra have better stand-up than Alves? No. But what happened?
I think Diaz has every chance to out-point GSP, though if i were to place a bet on this fight, i'd have to go GSP. Cant see GSP putting Diaz away though, so prolly another squeaky-clean decision for earthworm jim.
Didn't bother reading all the posts. Prolly doctor stoppage by the 4th. Nick Diaz is going to be in a world of hurt. Funny thing is GSP's gnp isn't like JBJ or any other heavy hitter. It's the accumulation of shots like a charlie horse over and over except on your face...lolz! It won't really knock you out, but it will annoy you and hurt you over time.

GSP by absolute pure domination...even more so than his previous fights.

Right after Diaz will fight Sanchez in an epic fight. I would actually love to see Diaz vs Thiago Alves...lolz then BJ Penn.
Join Date: Oct 2009
Location: Ohio
Posts: 2,719
I said it before when this fight first was announced, and I'll keep saying until the 5/5 grind-fest is over.

It feels really weird rooting for Nick Diaz.
---
Sig courtesy of that photo-matic magician limba
Quote:
I went out the way that I fight. I went out on my shield. That's it. Done. --Chuck Liddell
Quote:
My goal is to end my opponent --Carlos Condit
I think this is another fight where we are going to see GSP take the fight standing and to the ground. He's gonna mix it up with Diaz to see if he can find a workable range. If he's not comfortable with that he'll likely work some GnP.

I would love to see Georges work with a submission specialist to incorporate a few simple submissions that he absolutely masters. Obviously he's good at submissions as he does have submission victories but he isn't always confident to give up position to attempt that sub. He had that armbar on Hardy but didn't have it set right, otherwise that fight was over via broken arm or tap. He had multiple Kimura attempts in the first fight with Kos and against Hardy as well. I think if he mastered those and maybe an arm triangle he would take his game to another level. Not only can he stack a guy and lay some GnP but he would be able to sink in some solid subs.

Of course this is me not on the hate train at all. Just venting a few things I'd love to see from GSP as there is far too much hate for a guy that dominates all of his fights and seems like a decent guy.
---
Check out the new MMA Forum app for the Android
I think most of us have made peace with with the likelihood of gsp hugging diaz for half an hour to get the win. But... can we hate gsp anyways?
---
If a law is unjust, a man is not only right to disobey it, he is obligated to do so. ~ Thomas Jefferson
Sig by D.P.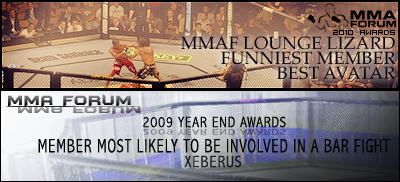 GSP has a great future in front of him - where was Silva when he was at GSP's current age? He had just been submitted by Ryo Chonan - and he turned out to be the GOAT
GSP still has plenty of time left to amaze us and put on performances that wovs is, it'll come - no worries
---
Currently Active Users Viewing This Thread: 1

(0 members and 1 guests)
Posting Rules

You may post new threads

You may post replies

You may not post attachments

You may not edit your posts

---

HTML code is Off

---