Jake Shields' father and manager passes away
---
Quote:
Graciefighter.com
passes along the bad news:
The father of Jake Shields has passed away. It was learned that he died peacefully as he slept. Jack Shields was instrumental in his son's MMA career. He taught Jake the values of hard work and perseverance. He was always there and was a fervent supporter through Jake's early years in wrestling and when Jake transcended to MMA.

Jack would often make the long drive from his home to watch Jake practice and was always at Jake's fights. He was part of our team and we will miss him.

"lost my father manager and one of my best friends today!! R.I.P jack you will be greatly missed and loved by many" – Jake Shields
Jack Shields coached his son in wrestling from the ages of nine to 19, and first got involved in Jake's MMA career when the Cesar Gracie product had trouble finding opponents following his 2002 Shooto upset of Hayato Sakurai. Our thoughts are with Jake during this sad time.
Source: CagePotato.com
R.I.P - I wish his family a bit of peace and quiet right now, must be impossible to think about fighting or anything at all at a time like this
This is probably not the time and place to discuss this, but how does this affect his match on September 17th?
---
Horrible news, RIP. My best wishes to Jake and his family.
---
Man that's horrible, sorry for their loss.
Bantamweight
Join Date: Sep 2009
Posts: 651
Teribble news for Jake and his family. I don't like him as a fighter, but putting aside that, this news sucks! Can't imagine having to lose your father and manager. That alone tells me they were close.

Surely he will pull out and not fight after this. There is no way he can train anytime soon.
Sad to hear, best wishes go to him and his family.
---
2013 VIP FFL Champion
THE DRAGON RIDES AGAIN - 12/20/14
Machida - Alves - Cruz - JDS - Weidman - Condit - Pettis - Edgar - Cowboy - Dodson - Okami
Megaweight
Join Date: Mar 2007
Posts: 5,499
Man, I wish the best to Shields and his family during this time. From the article it sounds like they were really close.
My condolences to Jake and his family.
---
If a law is unjust, a man is not only right to disobey it, he is obligated to do so. ~ Thomas Jefferson
Sig by D.P.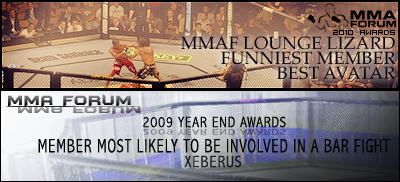 Jake, always seems to me like a very stand up guy... and that is despite the, albeit talented, thug like group he trains with.
I'm sure his humble attitude was instilled by his father. What a loss.
This is very sad news. I wish Jake and his family the best.
RNC - the fighting mans lullaby

Join Date: Sep 2008
Location: Somewhere between Hell and Earth
Posts: 1,849
Unfortunate news for Jake. Hope the guy holds up ok.
Currently Active Users Viewing This Thread: 1

(0 members and 1 guests)
Posting Rules

You may post new threads

You may post replies

You may not post attachments

You may not edit your posts

---

HTML code is Off

---