Dana: "I will die making sure the UFC gets to the next level"
---
Quote:
All told, the UFC has booked 27 events this year.

In 2012, it's aiming to put on 34 shows, a 22 percent increase. In 2005, the year in which the promotion broke onto basic cable, 10 events filled the calendar.

Meanwhile, the UFC offices have spread into a new building. In about a month, the promotion arrives on network TV.

"This year was a big year for us," UFC president Dana White said. "But the next year is going to be the real big year for mixed martial arts. Next year is going to be the real big year for MMA. Next year is the one that's going to change everything and take it to the next level."

UFC on FOX 1 takes place Nov. 12 at the Honda Center in Anaheim, Calif., and features a heavyweight title fight between reigning champ Cain Velasquez and Junior Dos Santos.

As White tells it, he's literally running himself ragged to ensure the event's success. He flies from the UFC's Las Vegas headquarters to the FOX offices in Los Angeles every week and is "on the phone a lot" with network executives.

"It's been crazy, but I wouldn't change a thing," White said. "When you want to achieve and you want to do what we're doing, this is how you do it, and this is what you have to do. In no way, shape or form am I like, 'I need to lay off; [expletive] this.'

"I love it. We have a plan. The next two years ... definitely the next is going to beat the living [expletive] out of me. The next year is going to be a real rough one for me. But I'm down for this. This is what I want to do. I have a plan; I know how I want to execute this next year. Because in my opinion, the next two years are the most important two years for this company and this sport."

The event is already a success in one sense; advertising is completely sold out for the one-hour televised card, and a list of blue-chip sponsors has lined up to occupy the available slots.

Without ratings, however, the experiment is a failure. That's pushing White to his current output level and why he anticipates a rough year ahead. While a fight like Forrest Griffin vs. Stephan Bonnar I opened the door to a bigger level of exposure, FOX's TV footprint dwarfs the potential viewing audience of a basic-cable outlet. After all, you only need a set of bunny ears to tune into the network.

"I think we hit a lot fight fans with that first step," White said. "Now we're reaching people that would have never watched us in a million years. It's the perfect time. We did that first fight on FOX, and it was such a huge success. (In) 2002 we did the 'Best Damn Sports Show.' (People say) '[Expletive], we should have gotten that deal then.' But it wasn't time. It didn't happen then because it wasn't time. We weren't ready for that. We're ready now.

"All the ducks are in a row, we've got this thing dialed in, we know what we're doing, we're the best at what we do, and now we're going to go out there, and we're going to [expletive] nail this in the next two years."

So if White sounds a little under the weather – and he's been so since UFC 135 – it's a small price to pay.

"Hold this tape and watch what happens at the end of next year and where we are and what we're talking about," he said. "And believe me, I will [expletive] die before I let this not happen. I don't give a [expletive] how many cities or countries I have to fly to in the next 10 days or next year. I am focused and excited and ready to do this."
Source: MMAjunkie.com
Gotta respect that man
---
He's a man on a mission,
and he'll get it done.

War Dana
---
McCall, Faber, Aldo, Nate, Nick, Lyoto, TBD, Hunt
Forever hanging in Anderson Silva nuts
I've been digging the big events coming so soon one after another. And they are taking it up a notch in '12? We'll see how that works out, but I'm just going to sit back and enjoy the ride.
---
Welterweight
Join Date: Jul 2008
Posts: 2,229
Great time to be an MMA fan, mad respect to Dana White!
Flyweight
Join Date: Sep 2006
Posts: 329
I watched the facebook fights.
I watched the free pre-lims on Spike
I watched the PPV.

This was THE most entertaining card the UFC has ever put on. EVER.

And I've been watching since the UFC I, II, III, in the pre-White/Fertitta days.

Five-plus hours of high-level fights. WELL worth the money for the PPV. Even better, as good as the facebook fights were, the free-TV prelims were better. (Demian Maia for free!?!?). And the PPV was better yet. Even Lauzon-Guillard was worth it, just cause I love seeing guys showboating in the cage, and then losing. Any kid I train, I can just show that fight, and then say THAT, is why you don't act like an arrogant asshole in the ring.

And props to KenFlo. He did EVERYTHING right. Aldo is just too strong, too fast and too skilled. They fight ten times, Florian might win once. MIGHT.

And of course Dana wants Iron to drop down to 145 and fight Aldo. That's his 'guaranteed excitement' fight after Silva-Sonnen. That fight MAKES the sub-170 weight classes marketable. If this card didn't do it already.

Velaquez-JDS is gonna have a hard time being as entertaining a fight as Edgar-Maynard III.
Banned
Join Date: Aug 2010
Location: Idaho
Posts: 2,848
Don't get me wrong, I love Dana's attitude about the whole thing, and admire his work ethic and passion for the sport.

However, unless Dana increases the amount of fighters on payroll, I think too many events could be a bad thing. More events equal more risk for injury, which could lead to some weird situations like the LW division was for most of the year, the Jon Jones-Rashad Evans mess, etc.
A bit of a silly statement but I wonder if there is going to come a time when the grey haired fellow from WEC is goin to step in to conduct more pressers/interviews e.t.c to take the load off dana.I have noticed recently hes been giving a lot of "I dont knows" "we havent figured that out yet" and its not an attempt to keep the masses on tender hooks, he generally seems clueless.As if hes got more important things to think about and the ppl that handle that stuff havent conferred with him
---
To Live is 2 suffer, 2 survive? well that is 2 find meaning in the suffering
All their ideas with giving a chance to see EVERY SINGLE FIGHT on every card, and most fights now are free with Facebook/Spike Tv, they are really doing the right things to make this sport reach a new level of fans With or Without Money.

IM very impressed with what they are doing... Dana is the man... U cant argue that
---
Sig credit to my Homie! limba!
Uncrowned P4P Kingpin
Jon "Bones" Jones
WAR ANTHONY PETTIS! WAR HENDERSON!
Don't die for the UFC. Take care of those wife and kids.
---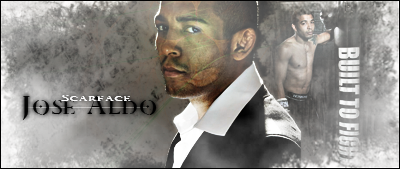 Currently Active Users Viewing This Thread: 1

(0 members and 1 guests)
Posting Rules

You may post new threads

You may post replies

You may not post attachments

You may not edit your posts

---

HTML code is Off

---