Flyweight
Join Date: Feb 2007
Location: NWO
Posts: 327
What NOT to have as Entrance music
---
I was laughing when Jeff Monson came out to fight Sylvia listening to "Imagine" by John Lennon. I also dont think a fight should come out to a song off the Rocky Soundtrack. When Tyson Griffin came out to " eye of the tiger" THEN LOST. Find something that is Unique but not Rocky
---
KDG
Quote:
Originally Posted by Kirkardo
I was laughing when Jeff Monson came out to fight Sylvia listening to "Imagine" by John Lennon. I also dont think a fight should come out to a song off the Rocky Soundtrack. When Tyson Griffin came out to " eye of the tiger" THEN LOST. Find something that is Unique but not Rocky
I thought it was great. He faught like Rocky (all except the winning part). He deserved to come in to that music after putting on such a great fight with Edgar.
---
"You can light a fire for a man and he will be warm for a day."
OR
"You can light a man on fire and he'll be warm for a lifetime."

My Top 6
BW = Miguel Torres
LW = Tyson Griffin
WW = GSP
MW = Gegard Mousasi
LHW = Lyota Machida
HW = Fedor
Is this a thread that we are supposed to respond to? Is it a question? Ummm, yes those are both bad enterance songs.
---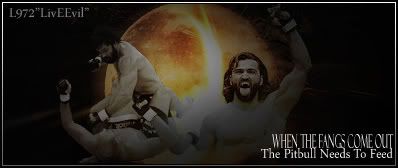 I like how hughes always comes out to that one hick song and usualy walks away with a great win.
I prefer the fighters that come out to war/fight music, just my preference it hypes it up a lil better for me. Tito has good entrance music.
Anything Michael Jackson or Eddie Murphy
"Why Can't We be Friends"

"Hold On For One More Day"-Wilson Philips

"**** Me"- Nirvana

"You Spin Me Round (Like A Record)"- Dead or Alive
---
Mac Danzig is still on his back; his sweaty, pumped white torso is flushed with the auburn heat that auburn skin produces when it is aroused. His panting, fetching head has been pushed up against the cage by... Marc Bocek's energetic pounding...
AA's Walkout music is AWESOME gets me real pumped up....
Icepick - Onward to Victory
Im a Loser - 3 Doors Down
Currently Active Users Viewing This Thread: 1

(0 members and 1 guests)
Posting Rules

You may post new threads

You may post replies

You may not post attachments

You may not edit your posts

---

HTML code is Off

---