One thing is for damn sure, if that was a 5 rounder Franklin would have dominated.
Light Heavyweight
Join Date: Nov 2008
Location: NC
Posts: 3,059
I've been negged many a time for my analysis of this fight but I just don't see how Hendo won.

Rd1 - Clear as day for Hendo.
Rd3 - Clear as day for Rich.

So instantly that 30-27 was stupid, but...

Rd 2 - Fight is on the feet until 2:30 left. This involves Rich outstriking Hendo, avoiding the TD, and controlling the clinch. Rich uses his speed to jab in, step out of range of the right hand hand, kick to the body, and set up combos. in the clinch he lands big knees and short punches.

At 2:30 the TD comes. Dan stays ontop and lands only 3 punches. How on earth can equal time where Rich lands more punches, knees, and controls the clinch be scored for Dan who lands three punches? Absolute crap. Rich wins this round and the fight.
---
Attero Dominatus.
Agreed, Rich was robbed.. Lame eye gouge at the end too. Would've loved to have seen Bisping vs Franklin, although what Hendo did to MB was a thing of beauty.
I also leaned towards Franklin winning this fight. I felt like he just did more in the last two rounds.
---
If a law is unjust, a man is not only right to disobey it, he is obligated to do so. ~ Thomas Jefferson
Sig by D.P.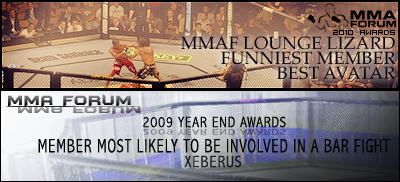 Quote:
I wish Franklin would go back to 205, I'd love to see him fight Chael, Munoz, Weidman, Bisping etc. I'm rewatching this and i'm halfway through round 2 and I have round 1 Hendo and so far in round 2 Franklin.
185..
---
BJ The Prodigy Penn
Alexander The Mauler Gustafsson
Cain Brock Smasher Velasquez
Anthony Rumble Johnson

2014 NPFFL Champ
MMA Fanatic
Join Date: Oct 2006
Location: PA
Posts: 94
I really cant see how anyone could score that for Franklin....Henderson had the harder shots.....Henderson controlled the octagon....Henderson was in dominant position in each of the rounds.....I agree with the 30-27 ruling......
Franklin did enough to win the fight I think. Aside from a competitive 1st round and lay on (recharging batteries), Dan didn't do much and was getting pick apart on the feet. Personally I think Franklin is the better MW and Hendo is the better LHW.
---
"Let them see that their words can cut you, and you'll never be free of the mockery. If they want to give you a name, take it, make it your own. Then they can't hurt you with it anymore." - Tyrion Lannister
yeah i think it was 29-28 franklin personally but i guess i can see how they could give it to hendo because of the takedown in the 2nd round. I was upset with this fight however i cant be too upset because it resulted in his fight with bisping which produced one of my favorite KOs of all time
---
"The fat man flies at midnight"
Currently Active Users Viewing This Thread: 1

(0 members and 1 guests)
Posting Rules

You may post new threads

You may post replies

You may not post attachments

You may not edit your posts

---

HTML code is Off

---