View Poll Results

: Who Would Win: Sonnen vs. Henderson

Henderson
11
27.50%
Sonnen
29
72.50%
Voters: 40. You may not vote on this poll
I don't really care who'd win, but I'd definitely not miss that war
If Jake Shields was able to lay on Hendo for 4 rounds I'm sure Sonnen could
Are they fighting at MW or LHW? Hendo barely has 1 round of cardio at MW. Sonnen probably wins either way but the chance of seeing him laid out from an H-Bomb is very enticing.
MMA Fanatic

Join Date: Oct 2008
Location: Bartlett Illinois Hello
Posts: 66
Quote:
If Jake Shields was able to lay on Hendo for 4 rounds I'm sure Sonnen could
thunder stolen
Lightweight
Join Date: Jul 2008
Location: Flint,Michigan
Posts: 1,806
Quote:
If Jake Shields was able to lay on Hendo for 4 rounds I'm sure Sonnen could
Yeah, this was my first thought also. Hendo could land that one shot, but I see Sonnen laying on him for a majority of the fight.
Before the Shogun fight I picked Dan but watching how easily Shogun got Dan down (gassed or not), it is quite clear in my mind that Sonnen would literally manhandle him to a decision.
---
"Let them see that their words can cut you, and you'll never be free of the mockery. If they want to give you a name, take it, make it your own. Then they can't hurt you with it anymore." - Tyrion Lannister
Flyweight
Join Date: Nov 2011
Posts: 404
Hard to say, Henderson might be able to catch Sonnen with the H bomb early and put him away. But I think if the fight last a little while Sonnen would eventually overwhelm Henderson with his wrestling and win the fight
Wow. Tough fight to call. I lean toward Sonnen due to being younger and bigger but would not shock me if Hendo won. I think Sonnen would be able to take Hendo down but I do not think Hendo could take Sonnen down.

I think Sonnen has the better ground game.

When thinking about this the Sheilds fight just sticks in my head. I know Hendo had issues for that fight as far as his back and the weight cut but Sonnen is a far better wrestler than Sheilds and has good cardio.
---
Fav Fighters:
BJ
GSP
Askren
JDS
Belcher
Shogun
Fedor
Hendo
Sonnen
---
Last edited by ASKREN4WIN; 11-23-2011 at

12:10 PM

.
Sonnen would probably UD him. But in my mind I see hendo coming out wearing this:
'merica **** yea! And h-bombing sonnen in .2sec, herb says go hendo is flying across the ring slow-mo kinda scenario.
Bah probably sonnen wins
---
If a law is unjust, a man is not only right to disobey it, he is obligated to do so. ~ Thomas Jefferson
Sig by D.P.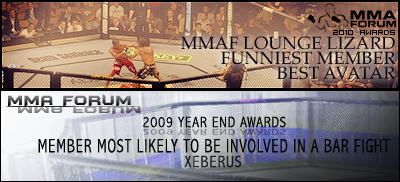 Currently Active Users Viewing This Thread: 1

(0 members and 1 guests)
Posting Rules

You may post new threads

You may post replies

You may not post attachments

You may not edit your posts

---

HTML code is Off

---