View Poll Results

: Who takes it?

Josť Aldo
28
87.50%
Chad Mendes
4
12.50%
Voters: 32. You may not vote on this poll
***OFFICIAL*** Josť Aldo vs. Chad Mendes Pre/Post Fight Discussion
---
Please direct all threads/posts regarding this fight into this official thread. All other threads will be merged into this one.
---
Last edited by Budhisten; 01-13-2012 at

06:54 PM

.
I think Aldo finishes this fight, he may be happy defending his title with decision wins nowadays, but he's still a killer and can show this against Mendes.
---
Welterweight
Join Date: Jul 2008
Posts: 2,229
Aldo has looked lackluster in his last two fights, albeit he had the flu against Hominick so that can be excused. I think Mendes will pose some problems to Aldo with his wrestling and manage to keep the fight on the mat for a good period of time, but in the end Aldo's superior skill should win him a decision.
Mendes is tough so I dont think he will be finished but there's going to be some damage done in this fight for sure.
Aldo via sprawl and brawl/
---

I pray to God Aldo doesn't get wrestle****ed. Fortunately or unfortunately that's all Mendes can do to him so if Aldo can stuff the first few takedowns I think he will finish this fight within two rounds.
---
Rookie Hammer Squad 2015
Frankie Edgar - Dominick Cruz - Jorge Masvidal - Cat Zingano - Holly Holm
aldo via his very high TTD stats
---
fighters I like
145 Jose Aldo
155 Melvin Guillard
170 Carlos Condit
185 Anderson Silva
205 Jon Jones/Machida
265 Alistair Overeem/Frank Mir
---
McCall, Faber, Aldo, Nate, Nick, Lyoto, TBD, Hunt
Forever hanging in Anderson Silva nuts
This will be a hard fought UD for Aldo. Will be an interesting fight, that's for sure.
---
R.I.P. PRIDE FC

Fedor-Shogun-Overeem-Cro Cop-Silva-Gomi-Henderson-Jackson

2014 NPFFL

Jon Jones . Travis Browne . Demian Maia. Cain Velasquez. Fabricio Werdum
Quote:
Originally Posted by
tap nap or snap
View Post
aldo via his very high TTD stats
Iirc, Aldo's sick TDD has been more versus single legs, no? Where he manages a BJ Penn-like hop on one leg...
This fight comes down to Aldo's TDD vs Mendes double legs.
I think Aldo can weather a few rounds, work some leg kicks to take away Mendes' base, and finish the fight in the championship rounds. Though, he'll have to be very precise and careful with leg kicks if he chooses to utilize them as they will expose him to Mendes' double leg strength.
Also, keep in mind from the Michi Omigawa fight, Mendes was pretty gassed by round 3 and was shooting from a mile away and that sh*t will end up with him sleeping from an Aldo knee if he does it in this fight.
But, if Aldo has another bad weight cut and gasses himself, all bets are off ;p
---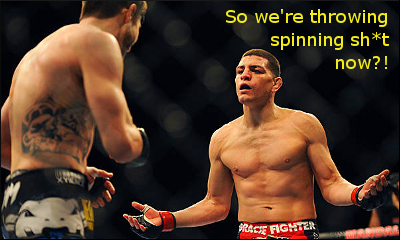 ---
McCall, Faber, Aldo, Nate, Nick, Lyoto, TBD, Hunt
Forever hanging in Anderson Silva nuts
Currently Active Users Viewing This Thread: 1

(0 members and 1 guests)
Posting Rules

You may post new threads

You may post replies

You may not post attachments

You may not edit your posts

---

HTML code is Off

---