Gabe Ruedigar..lol
---
Just when I thought it couldn't get any more pathetic than Andy Wang along comes this idiot. How can you be a fighter with that little of a heart??
Man, I just lost what little respect I had for Gabe. What a douche.
There is absolutley no excuse to not make wieght when you know you are going to be on a show and have to fight at 155. I wonder how many people they could have picked other than him to be on TUF.
"I think there is a better show for you, Celebrity Fit Club" HAHAHAHA
---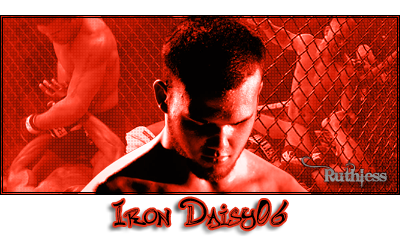 Fighters to watch
John Salter
Chris 'The Chronic' Conolley
Marcus 'The Bruiser' Brimage
Adrian 'Guard Yo Grill' Miles
Andy Roberts
Featherweight
Join Date: Mar 2007
Posts: 1,221
i actualyl like gabe alot. and he was honestly my pick to win the show... and i was always giving him the benefit of the doubt with the whole weight thing.. but when he went home and ate that piece of cake.. WTF. dude come on. your a professional. if a businessman went to a meeting completely unprepared he would get fired to. im so disappointed
gabe is simply looking like a puss at the moment, and i dont think there's a way he can turn that around anymore.
yay another thread about gabe. anyway, he just didnt have the heart. He is decent fighter but a better con-man and he is lacking willpower.
What a complete let down, Dana did him a huge favor by sending him home, for real...Some of those guys were freakin' pissed and rightfully so.
---
You can't have everything. Where would you put it?
Favorite Fighters:

Chuck Liddell
Rich Franklin
Diego Sanchez
Curitiba Food and Liquor

Join Date: Dec 2006
Location: NY
Posts: 16,176
how the hellllll do you come to a reality show attempting to get a UFC contract, 22 lbs overweight??? then he ate cake are you f***in kidding?? i have to watch the rerun on Sat. to view that insanity.

He should go on celebrity fit club. I'm pretty sure he could still kick screech's ass.
Lightweight
Join Date: Oct 2006
Location: long island NY
Posts: 1,572
I honestly try not to watch tuf. But I usually cave in and watch it. I have never seen such a ***** in my life (thats supposed to be a fighter) ALL show and no go, he was obviously scared to fight of that tall guy. What a ***** azz drama Queen. What fighter in the world walks on the treadmill?
Currently Active Users Viewing This Thread: 1

(0 members and 1 guests)
Posting Rules

You may post new threads

You may post replies

You may not post attachments

You may not edit your posts

---

HTML code is Off

---