Finally Lauzon gets to fight!
---
What does everyone think of this? I can't wait!
---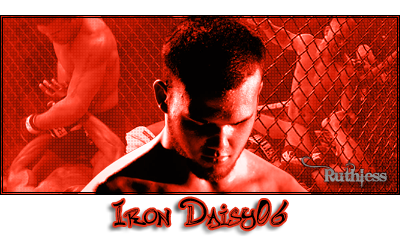 Fighters to watch
John Salter
Chris 'The Chronic' Conolley
Marcus 'The Bruiser' Brimage
Adrian 'Guard Yo Grill' Miles
Andy Roberts
Lauzon will win, the other guy is a chump i never heard before...
---
"Omae wa mou shindeiru"
-You're already dead
Quote:
Originally Posted by Uchi
Lauzon will win, the other guy is a chump i never heard before...
gaugherty is like 17-9, so he's got some experience. then again joe knocked out pulver, so could be interesting
---
"You must first believe if you are to achieve. That rhymed... unintentionally."

Favorite MMA Fighters:
BJ "The Prodigy" Penn
Randy "The Natural" Couture
I'm pulling for Lauzon. I'm pissed off that Mr. reudiger didn't make weight, i really wanted to see what corey was made of. Does this mean there's going to be a double fight next week???
I gaurentee Brian will last longer than Jens.

I'm thinking Joe will win as well, but if he didnt it wouldnt be an upset, considering his win against Jens ended too quickly to get a good look at him.

That Brian guy is funny though.
---
You're just a cook...
I'm pulling for Joe, although BJ can be an ass I like him more than Pulver (who can also be an ass at times)
---
You can't have everything. Where would you put it?
Favorite Fighters:

Chuck Liddell
Rich Franklin
Diego Sanchez
Megaweight
Join Date: Nov 2006
Location: Kansas City, Missouri
Posts: 5,148
I'm pulling for Joe and Corey in next weeks fights.
---
Currently Active Users Viewing This Thread: 1

(0 members and 1 guests)
Posting Rules

You may post new threads

You may post replies

You may not post attachments

You may not edit your posts

---

HTML code is Off

---