LMAO

It sorta makes you wonder how their screening process works if they turn away guys like Jason Mcdonald but let this dip shit on the show.
Flyweight
Join Date: Oct 2006
Posts: 376
lazy f*ck should be banned from any ufc... that guys a piece of cr*p. did u see his crying ass on the floor? or the 2mph bike ride? what a joke
MMA Fanatic
Join Date: May 2007
Posts: 19
I would've had a lot more respect for him if he had said "Yup, that was a wake-up call, it helped me gain a lot of self-discipline and I'm in great shape." Instead, it sounds like he's still in denial about the whole incident. Bottom line, he was undiscipined and couldn't make weight. I don't care how much the producers spun things, those facts seem pretty clear.
Quote:
Originally Posted by anton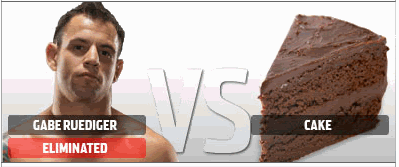 HEY! Thats fake, we all know it wasn't normal cake, it was ice cream cake!
---
"Omae wa mou shindeiru"
-You're already dead
Curitiba Food and Liquor

Join Date: Dec 2006
Location: NY
Posts: 16,176
wherever anton found that cake picture, i want to find a restaurant that has a piece which looks exactly like that, then i will consume it, and not get a colonic after lol.

he should go on whatever diet dana white was following to get ready for the tito fight which didn't happen.
Amatuer
Join Date: Apr 2007
Location: Michigan
Posts: 184
Gabe just plain sucks!
---
I think we all forget.....he had many months to get into shape for TUF5 but, he insisted his weight wasn't an issue! In 3 weeks even, he still couldn't lose the weight! I think he is a winer and totally lacks self discipline. Didn't we see him take a shot to his fat gut by Melvin Guillard a while back and it stopped him?
---
Team Jorge Gurgel, Grand Rapids Brazillian Jiu Jitsu
www.grbjj.com
If you rep me + or - leave your name!
I think the guy is a complete joke, how can you come in there like 20+lbs over weight. That is just stupid, Dana will never give him a shot in the UFC so he better hope he can find somewhere else to fight.
---
Top 5 Favorite Fighter's

Rich Franklin
Fedor Emelianenko
Georges St. Pierre
Mauricio Rua
Chuck Liddel
I don't know about anyone else, but I'm glad all the antics crap that took place in the first few episodes is now pretty much over with since he's gone.

Every fighter there seems to have mutual respect for one another....and its found in their mutual disrespect for Captain Creampuff!

I'm looking forward to some decent shows now that people are actually focused on fighting and not campaigning themselves for their 15 minutes of fame.

I'm thinking Emerson beats Hill via submission...prolly armbar.

Can't fahkin wait for next week!
another show pretty much dedicated to that jag off gabe. I feel so ripped off. Not even a single fight. That blows.

The only thing Gabe will be remembered for being the cake eating loser that never fought, cried like a b!tch, and had a tube shoved up his butt. It was a marketing tool? For What? going for a supository endorcement was he. Just look how easily Gabe Rudigar shoves it up is butt. Was he trying to be the poster boy for healing waters. [picture] of Gabe Smiling [caption] Mud Slide like a true man ... or... Real Men Mud Slide. How about Gabes new bumper Sticker... [I'd Rather Be Mud Sliding]

What a loser!
---
If Your Gonna Rep Me, Good or Bad, Be a Man and Sign It.....
Wow, so he basically had no intention to ever win the show, he was just using it for TV time. That's a slap in the face to any legitimate fighter out there. He cost some other guy for whom this could have been their only shot to ever make it to the "big leagues" a spot. I bet he was getting down on a half gallon of Rocky Road ice cream with hot fudge and 3/4 of a bottle of chocolate syrup when he was writing that. How does a guy like that wind up at a great camp like Team Quest anyhow? The only way this story can have a happy ending is if when he gets back to Team Quest, Ryan Parsons, Dan Henderson, and the rest of the guys at the team say "**** you, go home. We don't want our good name associated with a piece of shit like you."
---

Self-proclaimed leader of the Bao Quach bandwagon
On the Handsome bandwagon
It's Hellga time!

Currently Active Users Viewing This Thread: 1

(0 members and 1 guests)
Posting Rules

You may post new threads

You may post replies

You may not post attachments

You may not edit your posts

---

HTML code is Off

---