MMA Fanatic
Join Date: Mar 2007
Posts: 14
Beleive me, at first I thought it was fake too. But I have heard from a couple sources now that the finals are going to be Nate and Manny. Fake or not, that picture ties right in with most of what I've been hearing.
If that poster is real, damn are these people stupid. Joe vs Corey? Probably the worst matchup possible, and I have no idea why Dana nuthugs Corey so much, except for his size. Sure he's got lots of talent, but obviously not an A level fighter. Also, where the **** is Gray? The best wrestler on the show doesn't make the finals?


Anyway, I don't expect it to be real. It looks photoshopped and is missing the rumored Marlon-Noah rematch.
Megaweight

Join Date: Apr 2006
Location: Everett, MA
Posts: 5,961
Quote:
Originally Posted by TREY B.
Whether this is fake or real, which I'm leaning toward FAKE with that pathetic PhotoShop job (I mean, look at the font! HAHA...), it supsises me that you posted it anyway dun.
ahaha nah man i didnt post this because I saw that advertisement. A buddy I used to play football with trains with one of that dude Monstah from the show. And he told him. I get alot of my info from him and hes always right on
---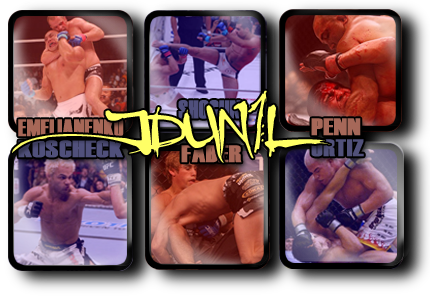 Mancrushes
1.Shogun
2.BJ
3.Fedor
4.Kos
5.GSP
Im in Porno's
MMA Fanatic
Join Date: Jan 2007
Posts: 14
baaad photoshop skillz...jens and bj are smaller than manny and nate!
Even though that is clearly not a real ad for the fight, why on earth would they match up Corey and Joe?
---
I could see that as the finale. I think Joe is better than nate, but I could see manny beating lauzon in the semifinals, may thats what happened. Joe is my favorite on the show and he is a monster and he definately has a future in the ufc if he wins the show or not.
God I hate Nate Diaz.. Straight up. I've hated him ever since he took off his shirt to fight in the house on like the third episode. It reminds me of random brawls and gives the UFC a bad image.
---
You don't know who I am? You must be new.

apparently manny armbars wiman and nate decisions lauzon. Thats just wat i've heard anyways
---
"Omae wa mou shindeiru"
-You're already dead
where do all you guys get this info from
and that picture looks pretty shitty
and last but not least
someone
still owes me something you know who you are
---
"Obviously Today is a great day in MMA.....Pro Elite is dead" - Dana White
Currently Active Users Viewing This Thread: 1

(0 members and 1 guests)
Posting Rules

You may post new threads

You may post replies

You may not post attachments

You may not edit your posts

---

HTML code is Off

---