I heard that its Joe Vs Nate
But everyone says they heard something different so lets just watch the show
Megaweight

Join Date: Apr 2006
Location: Everett, MA
Posts: 5,961
ill bet anyone is Manny vs Nate
---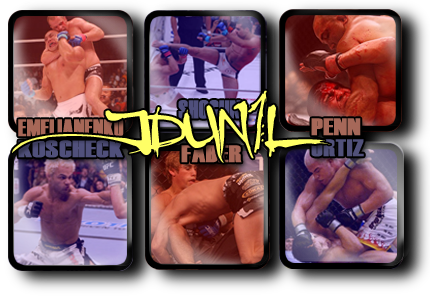 Mancrushes
1.Shogun
2.BJ
3.Fedor
4.Kos
5.GSP
Im in Porno's
Quote:
Originally Posted by jdun11
ill bet anyone is Manny vs Nate
Ohh because Joe Lauzon's trainer told me that Joe makes it to the final match because he was like ya we have to get him ready for Team Penn for the season finale fight nigh. He is fighting Nate Diaz.
---
Last edited by Mr. Mayhem; 05-30-2007 at

05:51 PM

.
Quote:
Originally Posted by jdun11
ill bet anyone is Manny vs Nate
How much should we bet
for real
Quote:
Originally Posted by Iron Daisy06
Manny fights Wiman in the semi's or so the guy says
But Manny fights Wiman in the quarterfinals. That was where my confusion stemmed from.
---
My Favorites:

Kendall Grove
Andrei Arlovski
Nick Diaz
Jens Pulver
Spencer Fisher
Sean Sherk
Corey Hill

5-1 in Forum bets

I <3 Paris Hilton
The poster's a fake. If you look at the advertisements they don't line up correctly. They're not in line with each other or centered correctly. Then there's all the black squares around the bottom lot of fighters. Fake. Who else agrees?
ONly a dumb ass thinks that the poster is legit.
Maybe Diaz does make it to the finals, but I doubt it. He's clearly not on the same level as his brother and his standup looked really sloppy. I can't imagine him beating Lauzon or Gray.
MMA Fanatic
Join Date: Oct 2006
Posts: 4
I am sure J-Lau will be in the final. Just check on ufc.com, his story is being published there weekly. This week is not only his blog, but there is also a story about his profile.
Quote:
Originally Posted by Beeno
That picture is officially photoshopped, poorly.

As for the spoiler thing, in the future when you guys have spoilers, can you put some blank lines before you actually SHOW the spoiler? I hovered over the tooltip and whoops, found out what the heck was going on before I wanted to. Kinda uncool... I know you wrote "If you don't want to know don't read this" but then you put it all on one line.
Or put it in a quote box. Then it won't show up if you scroll over the title.
---
"You must first believe if you are to achieve. That rhymed... unintentionally."

Favorite MMA Fighters:
BJ "The Prodigy" Penn
Randy "The Natural" Couture
Currently Active Users Viewing This Thread: 1

(0 members and 1 guests)
Posting Rules

You may post new threads

You may post replies

You may not post attachments

You may not edit your posts

---

HTML code is Off

---