Flyweight
Join Date: Oct 2006
Posts: 212
Wow, I didn't realize how immature some of the posters were on this site.
MMA Fanatic
Join Date: May 2007
Posts: 61
Ya he does. I think Cole would have finished Manny.
Quote:
Originally Posted by KO Power
Its not lay n pray you shmuck. He sas active while he was on top he wasnt just trying to waist time. Lauzon is a good fighter but he wasnt good enough to beat manny on that day get over it and give the man his props. He beat the guy with a serious disadvantage of 5 inches!
are you kidding he wasn't active he threw like 15 punches from the top maybe and the whole first period he humped him around the cage thats not staying active.
TUF is fixed ever since Cory somehow by majik Beat Emerson i was thinking what the hell.. now that Manny got through Matt and joe when both of them didnt look the same for some weird reason.. Joe in his first 2 fights lookd amazing against manny he was dong nothing looked like he had no idea what to do.
---
.:H.O.F. Inductee:.
.:GFX-H.O.F. Inductee:.
MMA Fanatic
Join Date: Jun 2007
Posts: 5
yeh when he took mannies back he def. should of taken the fight. manny destroyed him otherwise.
MMA Fanatic
Join Date: Dec 2006
Posts: 38
imo manny kinda fights matt hughes stlye and his strength saps the energy out of his opponents, joe sure had the opportunity to sink that choke in but i just think his arms were burned trying to keep manny off for 2 1/2 rounds.
Quote:
Originally Posted by mjbish23
are you kidding he wasn't active he threw like 15 punches from the top maybe and the whole first period he humped him around the cage thats not staying active.
yeah... yet another lay'n'pray fighter.. woohoo
Flyweight
Join Date: Apr 2007
Location: MA
Posts: 218
you think joe didnt wanna finish the fight?Did you see how gassed he was?You could literally hear him gasping for air literally it was beyond loud as hell the first two rounds.And maybe TUF is fixed because ive seen some bullshit ass decisions.like in Season 1 when Stephan Bonnar magically beat Bobby Southworth.He got destroyed and Dana didnt like bobby chuck didnt like bobby and randy didnt like bobby.The same thing with Leben.Leben broke the rules he left just like the guy this season and he didnt get kicked off.Idk there could be a conspriacy in the midst of this show.But i was pulling for Joe since the beginging of the season and this fight wasnt the Joe Lauzon from all of his fights not just the first two in the season all of them.He pushes forward and brings it and he didnt do that once in this fight and all manny did was sit on top and throw wild fists.This was the best episode by far and the best season.When joe took his back i jumped out of my chair i thought he would pull out an upset lets hope manny breaks his leg while walking down the street hahaha only in dreams right?
---
Top 5

1.Frank Mir
2.Mirko Crocop
3.Anderson Silva
4.Sean Sherk
5.Keith Jardine
MMA Fanatic
Join Date: Feb 2007
Posts: 1
Get your arm out Joe! Watch your leg Joe! Get your hooks in Joe! Yeah Joe! Go Joe! You got him Joe! It's go time Joe! LMAO, BJ is intensely hilarious.
I mentioned this in another thread in a round about way so I will be a little more forward here. I am newer to Pride and as I was reading was wondering if a guy Manny would be yellow carded for what he does or would he "get" away with it? I have mentioned in the past I wanted to see Joe vs. Manny thought it would be a perfect fight for entertainment purposes, boy was I wrong. Joe should have working harder to stand up and keep it standing, the problem is his foot was hurt, tapped up and I think he mentioned a couple of weeks ago that his hand hurts as well. I think living in a house for six weeks, no contact from the outside world take a bigger toll than we think also. I for one think it was unfair Karo got to come over but not Nick Diaz or someone else for each fighter.

Also, I cannot believe you guys think its rigged, Dana likes Joe and totally counted Manny out-I also think he may view him as a hot head like Karo. Why then would he rig it so Manny wins and not Joe, does Karo have pics of him dressed like a little catholic school girl or something?
---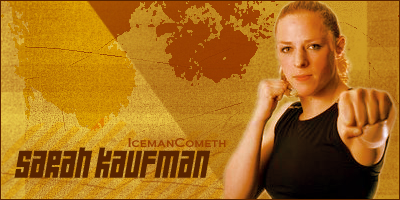 Currently Active Users Viewing This Thread: 1

(0 members and 1 guests)
Posting Rules

You may post new threads

You may post replies

You may not post attachments

You may not edit your posts

---

HTML code is Off

---