---
- The Alpha Wolves-
Muhammad Ali - Fedor Emelianenko - Alexander Karelin
BJ looks to be in great shape, and Jens' hair is freaking awesome. Should be a good fight! =)
was Pulver's head always that big or what? looks strange
Jens looks good and im not just talking about his hair and Manny looks like a caged animal
i think this event will be good

i picked diaz to win but i think manny will take it
but i dont have the balls to pick him
---
Quote:
Originally Posted by Aaronyman
was Pulver's head always that big or what? looks strange
It just looks big because your used to seeing him next to 170lb BJ's massive head.
that is some truly amazing hair that Jens has.
My favourite quote while BJ was fighting once was "That's the best BJ I've ever seen". OH man that was classic. Can't recall if Gold or Rogan said it though.
LIE or DIE
Join Date: Nov 2006
Location: Winnipeg
Posts: 1,931
I love Ultimate Fighter Finales.

The fact that all these unknown kids are willing to leave every last piece of them in the cage is an awsome thing to see. They all went to take there shot and run with it, and relive there dream so you can guarentee every single one of them will be the goods.

This one has something even more special, one of the most underrated rivalries. Two guys that have been around forever, hate eachother, and are ready to prove they still belong with the kids that they trained.

It'll be a great night and will probably be one of my favourite events from the last while. So stoked.
---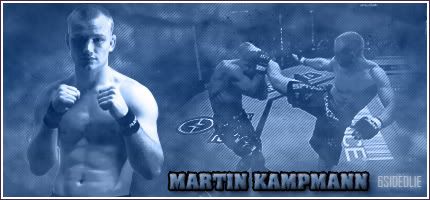 TEAM LORD:
1. Antonio Rodrigo Nogueira
2. Nate Marquardt
3. Goran Reljic
4. Amir Saddolah
RANKING: TBA
TOTAL POINTS: +TBA
Flyweight
Join Date: Jan 2007
Location: New Jersey
Posts: 227
Jens will win this
this finale is going to kick major ass
and jens' hair looks pretty sick
---
" Keep away from those who try to belittle your ambitions. Small people always do that, but the really great make you believe that you too can become great." ~ Mark Twain
Currently Active Users Viewing This Thread: 1

(0 members and 1 guests)
Posting Rules

You may post new threads

You may post replies

You may not post attachments

You may not edit your posts

---

HTML code is Off

---