DeWees vs Ray
---
After that matchup, Edwin Dewees should change his nickname from babyface to Bloody Mary. He was like a water fountain yet still won the fight. Was anybody impressed with Dewees or does he have long ways to go?
LOl that was a straight Blood bath. I thought edwin fought ok, there is no doubt that he is a tough kid. From what i saw he controlled all the rounds. The only thing ray did was land that vicious elbow thats about it. Better fight than last week
Megaweight

Join Date: Apr 2006
Location: Everett, MA
Posts: 5,961
Dewees Looked Pretty Good...he Probably Wont Ever Be An Elite Middleweight, But He A Decent Fighter, I Enjoyed That Fight , The Blood Was Crazy!
---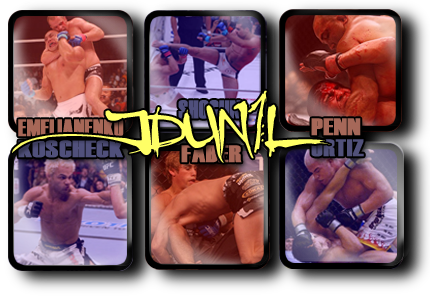 Mancrushes
1.Shogun
2.BJ
3.Fedor
4.Kos
5.GSP
Im in Porno's
YEa that was nasty. That would of been cool if ray would of landed that kick in the 3rd round but instead he fell.
MMA Fanatic
Join Date: May 2006
Posts: 92
That was sick, watching the blood steady stream of his forehead. The closest thing I've seen recently is the Josh Neer-Guillame fight. You could see that babyface was a tough fighter but that shit should have been called on the amount of blood and the fact that ray was covered in it.
Bantamweight
Join Date: Aug 2006
Location: Sacramento
Posts: 540
Edwin is awesome he never really got to show what he was made of in the octagon. I think he proved to everybody that he's tough as hell. Hope that cut wont effect him in the semi-finals.Much better fight than last week im definatlly watching every week now
edwinn won all 3 rounds in my eyes

but the fight should have been stopped

if they stopped the sham-ortiz fight cuz of those elbows...they should have stopped this fight cuz of the runnign blood
---
Favorite Fighters
RAMPAGE JACKSON / WANDERLEI SILVA / MATT HAMILL / HOUSTON ALEXANDER / ANDERSON SILVA / BJ PENN / SEAN SHERK / MAC DANZIG / CORY HILL / JAMES IRVIN / NATE DIAZ / TYSON GRIFFIN / ED HERMAN / CHRIS LEBEN
I never miss Ultimate Fighter! DeWeese showed how tough he is - don't let that baby-face fool ya'! I think he's gonna' go far. As far as the amount of blood, That's what fightin' is about isn't it? Head wounds always bleed excessively. The Doc didn't see fit to stop the fight, so, I was cool with it. Blood always gets the adrenaline flowin' a little harder!! I thought it was lots better than last week. Can't wait till next week!!!!!!!!
MMA Fanatic
Join Date: Aug 2006
Posts: 58
why call it vicious?
---
Quote:
Originally Posted by UFCFAN33
The only thing ray did was land that vicious elbow thats about it. Better fight than last week
What is sad about that elbow is it wasn't a "vicious" elbow. It had something on it, but not THAT much. That was one of those lucky shots that happen from time to time. Fortunate for Dewees he was able to continue and finish as strong as he did. I bet Ray wished he would have never cut him when all of that blood was pooring onto him!
MMA Fanatic
Join Date: Aug 2006
Posts: 58
do you think herb.....
---
Quote:
Originally Posted by D Wood
if they stopped the sham-ortiz fight cuz of those elbows...they should have stopped this fight cuz of the runnign blood
Do you really think Herb Dean is going to stop another fight after the Ortiz Shammy fight? I guarantee you Herb didn't sleep for a week thinking the Lion's Den crew was going to show up at his house! lol
Currently Active Users Viewing This Thread: 1

(0 members and 1 guests)
Posting Rules

You may post new threads

You may post replies

You may not post attachments

You may not edit your posts

---

HTML code is Off

---