LIE or DIE
Join Date: Nov 2006
Location: Winnipeg
Posts: 1,931
Serra needs to talk shit to hype this fight up as much as possible, because if he gets mauled by Hughes his win over GSP will be voided and he will fade into obsuristy. This could potentially be his last big pay day, and talking shit against Hughes will guarentee an even bigger pay day.

I hope Serra wins because I'd like GSP to have one more shot at him.
---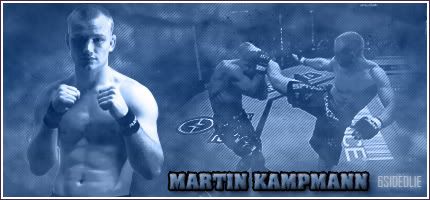 TEAM LORD:
1. Antonio Rodrigo Nogueira
2. Nate Marquardt
3. Goran Reljic
4. Amir Saddolah
RANKING: TBA
TOTAL POINTS: +TBA
Flyweight
Join Date: Sep 2007
Posts: 419
Quote:
Originally Posted by jb88ci
agree. I think it is a bad image for MMA fighting. Lots of people think the fighters and fans are just a bunch of knuckleheads....why show knuckleheaded behaviour like that on national TV...it's really sad.
lol repped
I personally don't see a problem watching a show that has a little drama. Do you guys honestly want to watch a show that just shows training and fights? Usually when some drama occurs it's the first thing to discuss on the forum. Lets be real, obviously Dana encourages the destruction. Those boys wouldn't trash the house if Dana told them not to.
6 weeks in a house torture
---
Rep Me...I Will Rep You Back!
Wooooohoooo its going down tonight!!!
---
-Ortiz/GSP/Silva
Currently Active Users Viewing This Thread: 1

(0 members and 1 guests)
Posting Rules

You may post new threads

You may post replies

You may not post attachments

You may not edit your posts

---

HTML code is Off

---