Both Matts have their share of people that don't like 'em. I like 'em both
I just realized something, Serra is like a fighting Dana White, think about it. Both guys speak their minds and are very intense personalities and cuss like fcking sailors. So I figure that is why everyone hates him now. I hope Serra kills Hughes and we get Serra/GSP II.
---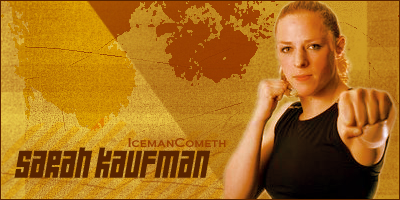 Banned
Join Date: Aug 2007
Posts: 8
Matt serra is a really nice guy. I don't know why anyone would dislike him. Seriously, he has done nothing bad to anyone. HE could of chewed out joey after tapping out in his fight but he was nice about it to him becausue he saw joe was down.
Bantamweight
Join Date: Apr 2007
Posts: 629
a lot of people gave Serra crap about talkin sh*t to St. Pierre after Geroges started giving excuses to his loss. People said being champion has gone to Serra's head. but I think he wouldve said all those things even if he wasn't chamion. He's a very genuine person and has been consistant with his persona before, during and after TUF.

You can love him or hate him, he's just a loud New Yorker.
Quote:
Originally Posted by sk double i
You can love him or hate him, he's just a loud New Yorker.
Yeah Serra is not my favorite fighter by far, but he's ok. I don't really like his personality and it would grate on me to have to be around him a lot. He is just an abrasive loudmouth, but he seems to be a good guy at heart. I get the point about jumping the ladder without earning it, but anyone who beat GSP in the cage is no joke.
MMA Fanatic
Join Date: Sep 2007
Posts: 83
I like Serra and I'm rooting for his team to unleash a can of whoop-a$$ on Matt Hughes team. WAR SERRA!
Featherweight

Join Date: Feb 2007
Posts: 1,152
Quote:
Originally Posted by stokedmma
I like Serra and I'm rooting for his team to unleash a can of whoop-a$$ on Matt Hughes team. WAR SERRA!
Im with this guys.
That simple. LIke Serra
Serra kill
Welterweight
Join Date: Nov 2006
Location: Toronto, ON
Posts: 2,449
I think Serra's win over GSP is getting to his head. He is way too cocky now (for his own good). Yeah, I will admit he defeated GSP and it was not a fluke but I am still skeptic whether he will last long as a champion.

The welterweight division is stacked, even if Hughes cannot beat Serra and for some reason Serra has GSP's number, there are still people like Sanchez, Fitch, Koscheck, Parisyan, who will give Serra a run for his money.
I was disappointed in Serra when Hughes approached him humbly and called Serra "champ." You have to admit that was classy.

Serra dismissed it and talked trash to Hughes who just shrugged it off and refused to talk trash back.

Hughes is said to be cocky by many fans, but if anyone does deserve to be able to act cocky, it is Hughes. He's beaten the best in his division and was a dominant champion.

He is confident in his abilities, but does that translate to the disrespect that he's constantly accused of?

He gets grief for a comment to GSP on the TUF show. GSP never complained about the comment because it was likely edited for TV to look controversial.

After Matt lost to GSP, he never made excuses, but the same can't be said for GSP's loss to Serra. George made excuses that everyone seems to overlook.

It seems like Hughes is getting some unjust hate that Serra is trying to tap into to get himself some popularity. But last night's show didn't make Serra look like such a good guy.

When he was training his fighter, Serra repeatedly said, "I need you to..." The key word being "I."

It may be team Serra, but his role is to coach the team members to victory and develop them as fighters. It's not to have them serve Serra in his personal war against Hughes.

Serra came off as self serving and surprisingly inefficient as a coach. And he seemed shallow and too cocky around Hughes who has done more as welterwieght champion than Serra has. Serra hasn't even defended the title yet.

I wanted to like Serra more. He lives not too far from me. Rooting for a local boy would have been fun, but after seeing him last night, I became more of a Matt Hughes fan.
MMA Fanatic
Join Date: Jun 2007
Posts: 76
I just don't like guys named Matt.
Currently Active Users Viewing This Thread: 1

(0 members and 1 guests)
Posting Rules

You may post new threads

You may post replies

You may not post attachments

You may not edit your posts

---

HTML code is Off

---