Quote:
Originally Posted by IcemanCometh
I could take him or leave him in the UFC.
How can you say that until you
actually
see him fight in the UFC, against other veteran fighters? Seems like you're jumping the gun on that one.
MMA Fanatic
Join Date: Oct 2007
Posts: 30
Quote:
Originally Posted by Davisty69
I think they are trying to set up Mac v. Jorge for the the finale.
That's what I'm hoping to see. That should be a nice fight
Ronin Ramzi
Join Date: May 2007
Posts: 1,243
wow although I don't really like Mac I was really impressed with the beatdown...
---
1.Mauricio Rua
Shogun
2.Quinton Jackson
Rampage
3.Fedor Emelianenko
The Russian Experiment
4. Thiago Alves
The Pitbull
5.Wanderlei Silva
The Axe Murderer
6.Lyoto Machida
The Dragon
7.Bas Rutten
El Guapo
8.Anderson Silva
The Spider
Mac is probably the best on the show, but there's people who can and might beat him. I think Ben has a good chance due to his size and George could take it as well.

The last fight was a good showcase of what Mac can do versus a guy with piss poor takedowns and bad standup.
Flyweight
Join Date: Dec 2006
Posts: 319
Mac did well against a dumb ass, but hey he does have what it takes to go to the finals. I see Ben and Mac for a final with Ben winning by decision.
Mac should go down to 155 after the show, he will be punished at 170lbs by bigger guys in the UFC, and might stand a chance at 155.
I guess I will put it here, I don't think Mac's going to finals, reason, the damn Blog. I think its interesting that Joe Lauzon was
supposed
to go to the finals last time and he didn't and then BAM he is writing a little blog after each show. I am beginning to think if you got a Blog they want to keep you fresh in the minds of the hardcores maybe casual fans but you lost out and didn't go on the Finale.
As for Canadaian Psycho I just don't see anything great about Mac Danzig, or I guess I am missing the hype on him. If you want to PM me some matches or post them here then please feel free. I also think his matches have sucked b/c of the extra weight he usually fights at 155 lb. I would love to see Danzig/KenFlo or Danzig/Lauzon so maybe I can take him
---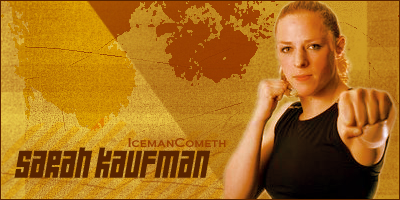 I eat babies
Join Date: Jul 2006
Location: Troy, Ohio
Posts: 7,647
Quote:
Originally Posted by iSHACKABUKU
Mac is good but you guys are exagerating a bit much, he basically had a guy hugging his leg the whole match allowing him to soften him up with elbows so easily.
Hugging his leg? LOL that's funny. He wasn't hugging his leg. He was trying his hardest to take him down. Huge difference man.
For Me. I just don't like Mac. Yes. Great start for him in the semi's. I'll give him the fact that he does belong in the top teer of fighters on the show. I don't think people on the show have hyped him more then what is deserved. What has over hyped him is himself. I think it's fine to have a feeling of confidence about your abilities and to feel like you're the best but to proclaim it so vehemently without any humility while feeling free to point out the faults of the ones around you is just plain ignorance. I pose this to the readers; "How does one get better when one thinks, no, believes he is the best?"

I've always gone by the old adage "Train like you're #2, fight like you're #1."

When it comes to the fall of the greats (purely speculating here) which ones get more sympathy those who are cocky in the eyes of the fans or those who are more humble and less self-indulgently verbose?
---
"You can light a fire for a man and he will be warm for a day."
OR
"You can light a man on fire and he'll be warm for a lifetime."

My Top 6
BW = Miguel Torres
LW = Tyson Griffin
WW = GSP
MW = Gegard Mousasi
LHW = Lyota Machida
HW = Fedor
Banned
Join Date: Nov 2007
Posts: 108
I loved the fight. They both did 100% in that fight
Banned
Join Date: Nov 2007
Posts: 108
...Well actually, the fight had to be my favorite on the show so far, The match was pretty brutal actually, Mac's my favorite fighter and he completely dominated Jon with everything he had in his play book to say the least, Jon put alot into the fight too, trying to get out of certain situations did somewhat well in, I liked the fight alot.
Currently Active Users Viewing This Thread: 1

(0 members and 1 guests)
Posting Rules

You may post new threads

You may post replies

You may not post attachments

You may not edit your posts

---

HTML code is Off

---