Matt Serra Fight is going to be Boring?
---
I don't know why everybody thinks Serra' fight is going to be amazing? He's going up against Pete Spratt! You remember Pete Spratt, the guy who had trouble with Lyte the first minute! The minute Serra gets Spratt on the ground, its over!
---
You forget that this isn't just some brutal sport where everyones out to kill each other. Its much more like a game of physical chess.-looney liam
Flyweight
Join Date: Jun 2006
Posts: 222
If Spratt is able to get in some of those nasty leg kicks it can be a good fight. Spratt has the ability to win this fight if his head is in it.
---
"and then I look up and they still be wearin the same sh*&t they be wearin"
Charlie Murphy from the Prince episode of "Chappelle Show
Megaweight

Join Date: Apr 2006
Location: Everett, MA
Posts: 5,961
first round sub, via armbar..serra wins
---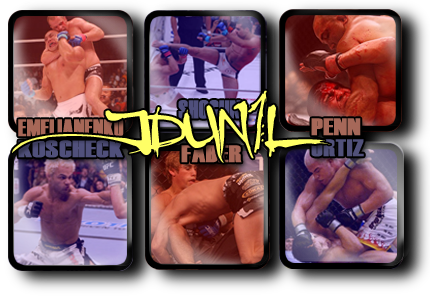 Mancrushes
1.Shogun
2.BJ
3.Fedor
4.Kos
5.GSP
Im in Porno's
Matt Serra by unanimous decision like all of his UFC fights.
Free Thinker
Join Date: Sep 2006
Location: In your closet!
Posts: 5,673
this episode gunna be good? i've skipped a week or so, just hadn't held my interest.
It was really good for a one-sided fight. Matt Serra definitley took it to him. Probably my new 2nd favorite fight of the season.
MMA Fanatic
Join Date: May 2006
Posts: 92
I'm glad that pete spratt chose to fight even though it was obvious to him that it was a bad matchup regarding styles. He would have regretted not fighting.
I got to admit, Matt Serra and Pete Spratt proved me wrong! This is def my second favorite fight! Man, I feel like a jerk!
---
You forget that this isn't just some brutal sport where everyones out to kill each other. Its much more like a game of physical chess.-looney liam
MMA Fanatic
Join Date: Sep 2006
Posts: 42
to Matt Serra and this fight and the producers of this aweful scripted show
EDIT: I'm still gonna watch it though cuz I like Cote and Thomas hahaah, but still, what I said up there ^
serra is the best fighter there
---
fear is only an obstacle, you can either beat it or succumb to it
Currently Active Users Viewing This Thread: 1

(0 members and 1 guests)
Posting Rules

You may post new threads

You may post replies

You may not post attachments

You may not edit your posts

---

HTML code is Off

---