attention whore
Join Date: Oct 2006
Location: Branson, Missouri
Posts: 14,445
Quote:
Henderson won the 1st round in their fight. The only one that I think would give Silva a good challenge in that entire division is Chael Sonnen and he's not even officially in the UFC yet, that I know of.
And then he got smoked in the second round.
Chael Sonnen would get smoked if he were to face Silva. Standing, Silva takes it, and if Chael gets him down, Silva will just sub him. Silva's guard is active and Chael really fights like a dumbass most of the time.
Odd that you think Chael would be the only good challenge. I mean, dudes like Maia, Palhares, Almeida and Marquardt in a rematch would be better opponents.
---
LIE or DIE
Join Date: Nov 2006
Location: Winnipeg
Posts: 1,931
Why do people think that these two will not be fighting to next December? It would be next June when TUF season ends, setting up the winner to face the champion in December.

Anderson Silva has pleanty to keep him busy, after he beats Cote he can move up to LHW for a fight, have Okami fight Marquardt and the winner faces Silva in the summer for the title. It really isn't that hard to keep him busy. The division is stacked with potential contenders, although they'll all most likely lose.
---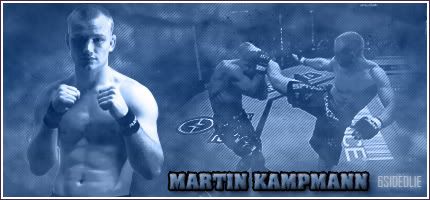 TEAM LORD:
1. Antonio Rodrigo Nogueira
2. Nate Marquardt
3. Goran Reljic
4. Amir Saddolah
RANKING: TBA
TOTAL POINTS: +TBA
attention whore
Join Date: Oct 2006
Location: Branson, Missouri
Posts: 14,445
Dammit, I totally forgot about Yushin. I miss that guy.
Please, Okami, get back to smashing dudes.
---
I'm getting tired of the UFC pumping Bisping... I like the guy I guess, but frankly there are better fighters out there. I'm a big Leben fan and he's definitely being used to pump another fighter here. I really hope Leben breaks Bispings jaw so we can stop hearing about him. Then what are they going to do?
MMA Fanatic
Join Date: Nov 2007
Location: New Zealand
Posts: 40
Would be better to see USA Vs Canada with GSP & BJ Penn as coaches.
---
Quote:
Would be better to see USA Vs Canada with GSP & BJ Penn as coaches.
BJ said he would NEVER coach again after Tuf 5 was concluded, BUT yes I agree with you that would be much better show--- I also like the US Vs Brazil show down--- now that be fun to watch.
Anyhow--- I honestly do not believe (JUST MY PERSONAL OPINION) that Henderson and Bisping belong in the same sentence--- experience alone is the factor, but accomplishments also are taken in account in formulating my opinion.
O
---
Last edited by Satori; 09-23-2008 at

04:37 AM

.
Currently Active Users Viewing This Thread: 1

(0 members and 1 guests)
Posting Rules

You may post new threads

You may post replies

You may not post attachments

You may not edit your posts

---

HTML code is Off

---