He was a decent fighter.

Also:

A bitch.

An ugly ass snagle toothed mother****er, looked like his face was in a grease fire and they used a skin graph from liza minelli.

Said he should be included among great people, when he should instead be included among the staff at mcdonalds.
---
If a law is unjust, a man is not only right to disobey it, he is obligated to do so. ~ Thomas Jefferson
Sig by D.P.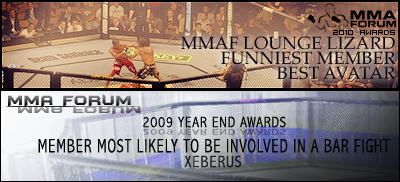 Quote:
I think that its the guy who fainted.. lol
Nah, the guy that fainted won his fight.
---
-----------------------------

"I does work" - Brett Rogers

"I don't know what kind of technique was used there, but there was a lot of kicking and punching." – Jim Brown
Yes I know, I think Dana was referring to him as the next A.Silva
Ha! Junie says "Hes got a better chance of getting me pregnant than beating me in the cage"
MMA Fanatic
Join Date: Nov 2007
Location: New Zealand
Posts: 40
"Put me back in the B.C times or whatever, put me back in the day dog, expose myself to the masses, blazin to the masses nahmean? boom."

LMAO. It was great TV.
I hate both the guys in that fight, but at least one of them could back-up his shit-talk.
The entire season was worth that one beatdown. So far anyways.
last season of TUf and this season I think they are looking more for underexpierienced young guys, mostly for tv ratings.

but ya i think junie is the next A.silva that dana was talking about,
so im gunna go ahead and hop on the wagon, even though
I hate how the guy talks
---
Quote:
He definately belongs with 'Napoleon, Alexander and Hitler' lol
Exept he never peaked before his misarable end, like they did
But June Browning looked real good. Scrawny, superblond, mean look, mean technique, cocky. I dig that.
---
Official Leader of the Demian Maia Subway Station!

Dustin Hazelett - I'm McLovin' it

"The second he hits me, I will crush him!" - WAND (WAR)
Currently Active Users Viewing This Thread: 1

(0 members and 1 guests)
Posting Rules

You may post new threads

You may post replies

You may not post attachments

You may not edit your posts

---

HTML code is Off

---