Banned
Join Date: Apr 2007
Location: Montclair, NJ
Posts: 11,605
I agree I just think they should match the fighters up better. I mean I could've told you before the show started that Kingsbury and Bader where 2 of the more talented fighters and that they shouldn't have been matched up.
Quote:
They should extend this throughout the UFC, the champ should be the person who has lost the most fights.
do you understand the concept of scouting?
Banned
Join Date: Aug 2007
Location: banned
Posts: 0
If anything they should do an international show.....fighters from all over the globe........
OR...Japan, Brazil, USA, UK should all have fighter and see how they do...example like this yr there are two weight classes..........16guys and 16 guys so 4 from each counrty......let them battle it out......
just a though
---
In past topics to improve TUF the TUF USA vs UK was very supported here. Many people were for it or even vs Japan, etc.
Many also felt that the UFC did not do enough to support foreign fighters getting into the UFC at the ground level. ANd on this forum many wnated to see more international competitors. (It is hard to get into a country with a work permit for a temporary contarct and other problems, of course.)
It was generally agreed that a internationally flavored TUF would also solve that problem and remove obstacles for some out of country fighters to enter.
So on one hand the UFC is about fighter on fighter crime, but:
1. This will get some UK fighters an opportunity to win the entry level contract.
2. This will tap into a new talent pool- just like early TUF's that produced quite a few mainstays. The US pool has been a little thinned out.
3. This will indeed make MMA more popular in the UK.
Even if it is really not country vs country, the positives really outweigh that piddly issue. Of course now we can see people throw chairs into walls while screaming with british accents- nothing like variety
LIE or DIE
Join Date: Nov 2006
Location: Winnipeg
Posts: 1,931
Did anyone see the interview that Rich Franklin doesn't even want to coach again unless he gets the right incentives?
---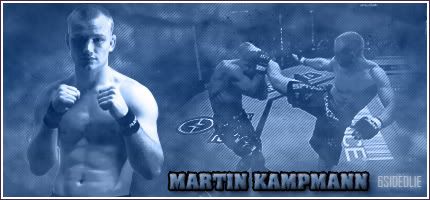 TEAM LORD:
1. Antonio Rodrigo Nogueira
2. Nate Marquardt
3. Goran Reljic
4. Amir Saddolah
RANKING: TBA
TOTAL POINTS: +TBA
Flyweight
Join Date: May 2008
Location: Vancouver, BC
Posts: 324
A way to boost the talent pool is to have either Usa vs. Uk, Canada and Australia. this may work because it increases the talent pool and everyone speaks english. or if there's still isn't enough talent, Usa vs. world (mostly Uk, canada, brazil, japan).
---
Religious Version:
"Faith without Works is Dead."
Academic Version:
"Knowledge without Action is Dead."
MMA Version:
"Skill without Will is Death."
I completely agree that the idea is dumb from a competitive standpoint but I think as far as raising awareness and interest in MMA in Europe its a great idea. The UFC has already cracked into the European market and is trying to stabalize the interest there. Perhaps if this works we may see a USA vs Japan or USA vs Brazil show next followed by a PPV show there?
---

Gonzaga vs dos Santos - UFC on VS
Vera vs Jones - UFC on VS
Bibs vs Hansen - Dream 13
GSP vs Hardy - UFC 112
Gomi vs Florian - UFN 21
Nelson vs Struve - UFN 21
Currently Active Users Viewing This Thread: 1

(0 members and 1 guests)
Posting Rules

You may post new threads

You may post replies

You may not post attachments

You may not edit your posts

---

HTML code is Off

---