Funny Coach Stankie video.
---
Stankie is the ******* man! I bet back in his day, he would have done some damage standing. I still want to go out drinking with the guy.
---

Pain Addict
Join Date: Jun 2008
Location: Ontario, Canada
Posts: 330
Stankie was the best TUF coach of all time.
Sweet-- Repped that was worth watching---
Awesome video! I'm still smiling after watching that, Stankie is so funny.
Thanks for the link!
Curitiba Food and Liquor

Join Date: Dec 2006
Location: NY
Posts: 16,176
No flash player 10 and can't install.
---

Sig Credit to Toxic

That was awesome! Nog's team is no doubt my favorite out of all the TUF teams!
---
I'm gonna take this right foot, and I'm gonna whop you on that side of your face...
...and you wanna know something? There's not a damn thing you're gonna be able to do about it. - Billy Jack
so win, that dude is a baller


imo efrain should have left jab, full body weight maximum power right hook and Koed that old bastard xD
---
If a law is unjust, a man is not only right to disobey it, he is obligated to do so. ~ Thomas Jefferson
Sig by D.P.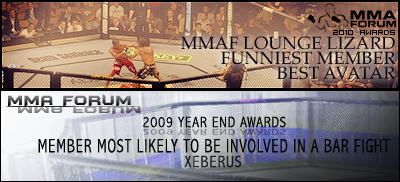 Currently Active Users Viewing This Thread: 1

(0 members and 1 guests)
Posting Rules

You may post new threads

You may post replies

You may not post attachments

You may not edit your posts

---

HTML code is Off

---