I figured he just got himself into a sticky wicket. Well I guess that's the same as that excuse.
---
Bantamweight
Join Date: May 2007
Posts: 622
you guys really think a coach would miss a match up without a valid reason? it was surely a set up, first of all he was saying 'where is he' and even bispings coaches didn't know which I call bs, it has to have been done for tv because the usa team were gettin shitted on and they needed something to even the drama out.
they picked the right fight for it because dean wasn't going to win it and bisping being or not being there would've had nothing to do with the result.
---
Quote:
Originally Posted by Dana White
He didnít just poke Al-Turk; he poked me, too
LMAO
Quote:
Originally Posted by Dana White
Bruce Lee is the father of MMA
Yes we know it was set up to look like he didn't have a vaild reason. I'm guessing a death in the family or someone got really sick or something of that nature.
---
Curitiba Food and Liquor

Join Date: Dec 2006
Location: NY
Posts: 16,176
You mean the army of PR types and lawyers at Zuffa haven't spat anything up yet? Lame!
---

Sig Credit to Toxic

He was on his period.
---
If a law is unjust, a man is not only right to disobey it, he is obligated to do so. ~ Thomas Jefferson
Sig by D.P.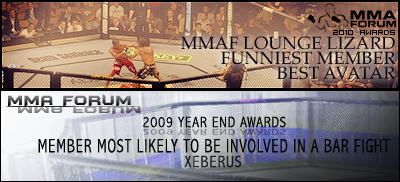 He had to read all the hate e-mail he got that day? So he didn't have time for both.
---
Yeah what a tool! That can't be helping his fan base.
---
Megaweight
Join Date: Mar 2007
Posts: 5,499
I know the show really doesn't give us a good grasp of how many days they have been there, but it seems like it has been at least 3 or 4 days which should easily be enough time to adjust. I typically adjust in 1 day from my cross atlantic trips, my mother who travels quite a bit takes about 2.
Yeah he should be use to traveling around by now as well.
---
Currently Active Users Viewing This Thread: 1

(0 members and 1 guests)
Posting Rules

You may post new threads

You may post replies

You may not post attachments

You may not edit your posts

---

HTML code is Off

---