MMA Fanatic
Join Date: May 2009
Location: North wales
Posts: 86
id agree it was a bitch move if the guy he squirted wasnt douchemarcus but seeing as it was then i find it had to side against bisping here.

as for the training times thing he could have taken that alot better, seems like the uk team has no say in what time they do their training at anyway so he was gonna get the shaft either way, he could have taken it with a bit of tact.
I must say this show has really just made me not like Bisping. This could be the intentions with the editing of the show...but even that being said, editing has nothing to do with the way Bisping is reacting. He acted like such a little bitch when Dan asked him to switch times. He talks an overwhelming amount of shit, and acts like a child when someone dishes it back at him. And it's like he has to poke at anything the US team does, like the huddle thing and the "1-2-3..blah blah" crap. He acts so disgusted by it. Right Bisping...who was the one going "1-2-3 TEEEEAM PUNISHMENT!" roughly 4 years ago?

If anyone knows me on this site, I hate everything involved with Team Quest and I do not like Henderson at all...but seriously, I hope Dan beats his ass. He probably will too.
---
You're just a cook...
Who gives a fudge honestly, I dont like either of them but come on. Its water in the face its not the end of the world. Everyones acting like he commited a crime, but damn there fighters they got aggresion and everything isnt going to be nice and pretty all the time. That being said I wish Bisping didnt try to make excuse's with the racist comment thing.
It's not the end of the world, it's just being a whiney bitch.
---
You're just a cook...
Amatuer
Join Date: May 2009
Location: Durham
Posts: 100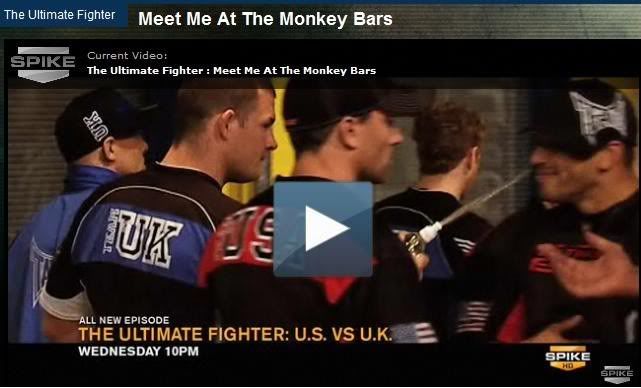 Demarques is smirking at him before he gets it in the kipper
Amateur
Join Date: Jun 2007
Posts: 104
ahhh baby got wet.
you lot are a bunch of little girls...upset because he squirted some water
"oooo i hate that bisping...bloody made my mascara run with his squirting"
Well, its not that people from the rest of the world don't WANT to like Bisping for his skills, it is just the fact that he is a typical immature jock limey, and he is narrowing down his fans to uk-only fairly quickly. Thats cool though, people will still pay to see him lose if they don't like him.
Yeah he really is disrespectul and childish. I used to be a fan too I bet he will lose a lot of fans after the show and after he gets his ass kicked @ UFC 100/
---
"Silva you got one commin. little ass ninja you better keep your ass down at 185 buddy, cheatin MOTHERFU.....I better watch my language my moms watchin"

- Mark "The Hammer" Coleman
Heavyweight
Join Date: Apr 2007
Posts: 3,709
Bisping: do you accept the challenge?

Hendo: uhh... no
Featherweight
Join Date: May 2009
Location: Western Massachusetts, New England, United States of America, Western Hemisphere, Earth, Sol System
Posts: 1,028
Quote:
Yes, more Bisping haters! My plan is working.
i don't think you had to work real hard on this plan; micheal kind of played into your hands.
---
.
.
.

Carley Simon, thanks for writing that song about me!
Currently Active Users Viewing This Thread: 1

(0 members and 1 guests)
Posting Rules

You may post new threads

You may post replies

You may not post attachments

You may not edit your posts

---

HTML code is Off

---