Amatuer
Join Date: Dec 2006
Location: Parts Unknown
Posts: 166
The Ultimate Fighter
---
---
Last edited by bazmagoo; 02-27-2007 at

06:39 PM

.
wrong section dont trick people. moved to tuf section
Quote:
Originally Posted by bazmagoo
HAHA,
Fooled you. My real intention with this thread is to find out what everyone on the board thinks of the TUF fighters. Is it just me or is the UFC is a bad position with these guys.
On the one hand the show is largely responsible for the inflated popularity of the UFC these days.
On the other hand, do these fights between TUF guys do anything for the MMA reputation of the UFC. I just can't see any of the TUF guys being a champion. Although Diego is close, I don't think he can make that last step. And all of the other guys (even Rashad) would get wailed on by a legitimate MMA veteran (although it is a fight and anything can happen).
I think the UFC should use the show to advertise the product, but should always have the best possible fights available on the PPV's. No more coddling these TUF veterans, if they can't make it, they can't make it.
Personal I think that TUF fighters are getting a bad rap.
There is only going to be one champ per division, period. So even if they aren't the champ, it doesn't mean that they suck. Look at Diego and Rashad, since they are the two that you mentioned. They are undefeated fighters that are great to watch (Rashad is just getting to that point now, but he is growing skill FAST). I think that they are getting over looked due to the fact that they are TUF fighters. Bisping is another one that we have yet to see what he is capible of.
Not only do I not think that they are a bad thing for MMA, but I think that they are very good for the sport, and they seem to bring a lot of skill.
---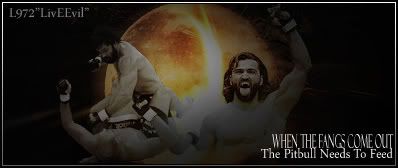 Currently Active Users Viewing This Thread: 1

(0 members and 1 guests)
Posting Rules

You may post new threads

You may post replies

You may not post attachments

You may not edit your posts

---

HTML code is Off

---