Quote:
Originally Posted by TREY B.
After playing it a bit, I pretty much agree with your picks. It seems that Ricardo Arona is pretty well balanced, as well as Big Nog. Gilbert Yvel has some devastating kicks on there too.
yeah i was going to say arona isnt my fav in real life but he is a monster on the game...if you throw the back leg kick twice the second one that lands usually stuns them..i can usually ko some one with wand too..you just gotta move so they dont tie you up and be quick with the take down defense..i wish they had an online feature for this game so we could go world wide with it..my friends hate this game cuz i always stomp them..its set up perfect and being that i train in mma it makes so much sense to me..sometimes depending on who i am ill let people take me down and just submit them from my back..or reverse and submit from the mount..i made lloyd irvin on there and he does all kinds of crazy shit..i get my one friend with the flying arm bar all the time..that and the scissor take down into the heel hook..pride fc is the best fighting game period
---

Ground and Pound Drilling..
http://video.google.com/videoplay?do...72196009&hl=en
Megaweight

Join Date: Apr 2006
Location: Everett, MA
Posts: 5,961
I just picked up this game i dont got themanual with it, i cant figure out how to pull off a submission.Can sum 1 help me out??
---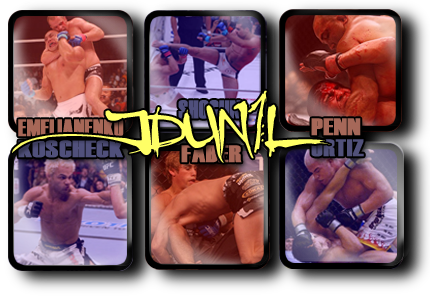 Mancrushes
1.Shogun
2.BJ
3.Fedor
4.Kos
5.GSP
Im in Porno's
Outta My Head
Join Date: May 2006
Location: Paramount, CA
Posts: 1,220
Submissions on Pride FC are pulled off like throws in Tekken. You either press LP + LK, or RP + RK simultaneously to execute the Sub, GNP or switch/sweep depending on the character and position. Now, in order to escape from any of the grapple attackes the general rule of thumb is this:
Right as a sub/grapple is being started you can escape by inputting the appropriate command. For any Chokes or Armlocks, hit both punches (LP + RP) during the initial escape window (more on that below). For any leg locks and leg takedowns, hit both kicks (LK + RK) during the escape window. If you do it early enough, you won't just escape the sub, but you'll also improve your position (sometimes passing guard and going to full mount, sweeping, etc). Do it in later in the window, and you'll just do enough to fight off the sub, but you won't better your position.
Now the escape window is based off of your Characters "Submissions" stat and their current amount of Endurance (depicted by the blue bar in your health gauge). If your submissions stat is high, you'll have a longer buffer window than if it was set low. Also, if your Endurance is high, you'll have a longer window to "fight" out of a submission (see below). This makes it so that if you wear down your opponent, it will be easier to catch them in a sub as the buffer window will be much smaller.
If you hit the appropriate button to escape, but it is very late in the buffer window, sometimes you'll find yourself stuck in a stalemate and you need to fight out of the submission hold. This is accomplished simply by thrashing on the buttons as fast as possible and controller spinning (doing spinning motions with the Left analog stick as quickly as possible). If you do it fast enough, you'll fight off the sub just enough to escape it but sometimes you'll be left in a worst position than before. Being able to fight off a Sub is more dependent on your current amount of Endurance, than it is your Submissions rating.
Some characters have specific escapes and counters using the Left Grapple (LP + LK), Right Grapple (RP + RK) and cross Grapple (LP + RK or RP + LK) commands against specific types of attacks. For instance, Skauraba can take an opponent's back if they shoot (LP + LK), catch them in a suplex (RP + RK) or roll into a Kimura (LP + RK) depending on the counter command used. You can find these by going through the training mode but some are listed in Pride FC FAQ page on here on
Game Faqs
.
If you need any other info, feel free to ask. It's been forever since I've played the game, and I know I wrote up something on it for another forum I used to frequent. I don't know if I still have the post saved anywhere though.
---
It doesn't matter if you agree or disagree
... As long as I don't bore you and I spark a moment of thought,
my goal is achieved
.
Queng leon queng tigre ecu tacacut, queca pa? - Pampangan Mandarigma Motto

Trey, I have CAF's. I have a fair few good ones.

You can fight out of subbies too, Trey.

Edit: Okay! You can do what Kam said about going to Gamespot and getting the CAF list from there. I also have CAF of my own that I could share. My Barnett and Kerr are pretty good.

Make sure you give Schilt, Renzo and Herring a go. Schilt for his awesome stand up. Renzo for his ground work and Herring for his well rounded loveliness.
MMA Fanatic
Join Date: Apr 2007
Posts: 63
I live in Australia an lookin back at this thread has made me wanna get this game, now i was just wondering if anyone at all knows a way to get this game here in Australia apart from ebay or amazon cause chances are i'll get ripped of an lose me money... i also have a mod chip in me ps2
Where in Australia are you?
Currently Active Users Viewing This Thread: 1

(0 members and 1 guests)
Posting Rules

You may post new threads

You may post replies

You may not post attachments

You may not edit your posts

---

HTML code is Off

---