PS3, maybe why I had less was because I never took those short notice fights where Dana always needed a favor. Hmm maybe that's why he kicked my ass out...
Featherweight
Join Date: Mar 2007
Posts: 1,221
Doesn't the UFC try to force people to retire who probably don't need to in real life, too? (e.g. Chuck Liddell)

The game really is realistic!
---
Team Stand Alone #1
This was chuck lidells destiny. He whooped up on a lot of grappling guys but when he started running into strikers because of his stance he is left open. He holds his arms down a lot.
I retired at 31-9 with my first guy.
---
Quote:
Composure, your one of my fav posters here so I mean this in a sincere way, please keep your hair as far away from long ever again! Lol
On expert my two have been,

29-5 and 29-4. My new guy is year 4 i think and 13-0, I probably won't have as many fights as i did with my first two.
i havnt played carrea mode much, i got a HW guy who is like 6-0 and a welterweigt who is about 7-0 but havnt played them in a while, i wonder if you just consentrate on sparring and strenght, speed and cardio and dont really car about winning teh fights, just concentrate on getting your guys stats up, if it would work?
---
sig credit to Michael Carson
UK Fighters FTW
It works until you start losing fights in a row. Dana sends some lovely emails...
yea my heavyweight was forced out at 31-5. With that i was fortunate enough to retire with the belt but what happens if you don't? I lost the belt in my middleweight career and its no longer in my trophy case. Is that normal?
MMA Fanatic
Join Date: May 2009
Location: Springfield Missouri
Posts: 23
yup you could be defending champ your last 20 fights but if u lose your last defense......no belt in case for you
---
"The wetter the better"-a quote that applies to much more then washing down matts
Yea I found this part of the game ridiculous. I want at least 15 years of fighting, and continued with stat drops due to age like in FN. My first guy I made 18 years old because I wanted to aim for about 20ish years in mma. Game has a ton of room for improvement, I'll wait for FNR4.
---
If a law is unjust, a man is not only right to disobey it, he is obligated to do so. ~ Thomas Jefferson
Sig by D.P.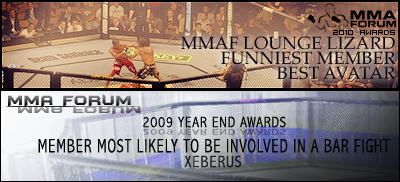 Currently Active Users Viewing This Thread: 1

(0 members and 1 guests)
Posting Rules

You may post new threads

You may post replies

You may not post attachments

You may not edit your posts

---

HTML code is Off

---