Melivn Guillard - The cocaine selling illetimate son of Kevin Randalman.
---
_RIVALS TOP 10

ANDERSON "THE SPIDER" SILVA
JAKE SHIELDS
NICK DIAZ
EDDIE ALVAREZ
JUNIOR "CIGANO" DOS SANTOS
GILBERT MELENDEZ
MAMED "THE CANNIBAL" KHALIDOV
HECTOR "SHANGO" LOMBARD
CAIN VELASQUEZ
GEGARD "THE DREAM CATCHER" MOUSASI

Quote:
Melivn Guillard - The cocaine selling illetimate son of Kevin Randalman.
This isn't real life.
Rua.......The all star Quarter Back that keeps hurting himself
Featherweight
Join Date: Mar 2007
Posts: 1,221
Spencer Fisher- The guy that everyone swears is 25 but is somehow only a junior. Usually throws bonfire parties on his parents' property where shady drop outs attend and usually start fights with the preppy popular kids.
---
Team Stand Alone #1
Matt Lindland - the smelly kid that noone wants to play with. Was in he wrestlingteam but nobody liked him.
Known for not showering and eating his own boogers.
---
Flyweight
Join Date: Jun 2008
Location: The Barn
Posts: 408
Alves - Fat unpopular kid who worked at Dairy Queen. Got a summer internship at a pharmacy and came back RIPPED. Used to be best friends with Karo.

Karo - Oft suspended for violating school's dress code(showing up in a gi). Beloved by the English department as a gifted pupil with a flair for essay-writing and haiku(always about judo). Had a falling-out with Alves after convincing him to steal drugs from the pharmacy. Developed a drug problem and dropped out.

Gonzaga - Good-natured kid who decided to wax his chest hair for a school charity auction. Wound up screaming hysterically(a la Steve Carrell in Forty Year-Old Virgin). Was never the same again.

Florian - Nerd who would have been a constant target were he not the crown jewel of the school's cross-country team. Picked on for being goofy-looking. Picked on even more after being credited in a film as "15 year-old Ben Stiller".

Rashad - Talented athlete who was relatively soft-spoken and maintained a high grad point average. Annoyed other jocks by always insisting they let his friend "Keith" tag along. Accused of being homosexual, particularly by arch-rival Quinton.

Lil Nog - Good friend to many. Capitalized on the popularity of his brother. Constantly giggled at by popular girls who mistook his nickname for a genital reference.
---
My milkshake brings all the girls to the barn.
MOO!
#RUSH11/17/12

Join Date: Apr 2010
Location: Following The Path To Jesus Set By His Disciple Vitor Belfort
Posts: 5,111
Quote:
Roy Nelson - jim Millers alcoholic father.
LMFAO, i can just imagine roy nelson pulling up in front of school with his mullet and a stained wife beater that doesn't quite fit and dragging jim miller out of a banged up car with a beer in one hand.
---
Join Date: Oct 2009
Location: Ohio
Posts: 2,719
Lesnar-the uber jock everyone says will peak in high school

Koscheck-the douchey jock who will peak in high school.

Florian-the sporty guy that mumbles a lot

Alves-the weird guy who used to be a loser, then he got really buff, now he's cool by default

Machida-the foreign kid who says almost nothing and acts unassuming. His only friend is Silva

Silva-the other foreign kid, he speaks enough english to be funny, so the average kids like him, but he's foreign so the jocks are predisposed to hate him

Evans-the loud jock. He's not as douchey as Koscheck, but he definitely thinks he's cooler

Griffin-the weird guy. He's freakin weird! But he says enough funny stuff to be at the top of the foodchain.

Kongo-the cheat. The guy who cheats in gym so his team can win and throws a fit when he gets caught doing it.
---
Sig courtesy of that photo-matic magician limba
Quote:
I went out the way that I fight. I went out on my shield. Thatís it. Done. --Chuck Liddell
Quote:
My goal is to end my opponent --Carlos Condit
Dan Henderson - Cool janitor who is rumored to have killed someone in prison.

michael bisping - creepy guy who tries to be cool, but fails miserably. always running from fights or getting beaten down but still talks shit afterwords, constantly sneaking into parties. Was once discovered touching himself while looking at the mentally handicapped girl on the bus, his peers dubbed him with the nick name "squeaker" as a result.
---
If a law is unjust, a man is not only right to disobey it, he is obligated to do so. ~ Thomas Jefferson
Sig by D.P.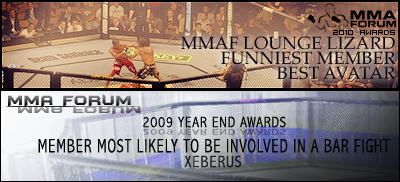 Currently Active Users Viewing This Thread: 1

(0 members and 1 guests)
Posting Rules

You may post new threads

You may post replies

You may not post attachments

You may not edit your posts

---

HTML code is Off

---