Discussion Starter
·
#1
·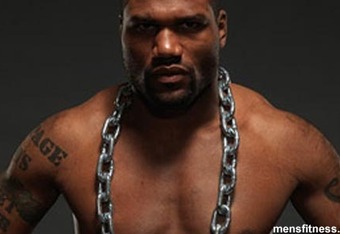 Get ready for one of the dumbest, short-sighted, and career-damaging statements EVER in the history of the UFC.
Not to mention insulting.
But first, put your hand up if you are a huge fan of Quinton "Rampage" Jackson (keeping in mind that it would have to include both his fighting and his acting careers).
Now I know what you're thinking (that's right—I'm in your head and there's not a damn thing that you can do about it!), why both? Can't it just be one or the other?
Sorry, fight fans—like it or not, they have definitely become a packaged deal.
At least, that's what "Rampage" is obviously counting on when he stated the following at a recent interview in London, where he was promoting the highly energetic A-Team movie:
"Honestly, when movies start paying me as much, just as much, same amount; I gotta keep up my lifestyle—I'm like done with fighting. Right now, fighting is my bread; it's my living."—Q. Jackson
Translation: My heart just isn't into fighting any more. I am only in it for the paycheque and as soon as another paycheque of an equal or greater value comes along, preferably as a movie star, I will quit fighting in a heart-beat.
Hmmm...so in the meantime, fans are supposed to give a crap about any of his upcoming fights, right?
Wrong.
You can put your hands down now, by the way.
What really boggles my mind is that "Rampage" honestly feels that he has anything to gain in this life by disparaging his career as an MMA fighter.
Why does he honestly think that he has had any of the "acting" opportunities that he has had up until this point?
Because of his Oscar-calibre acting skills?
No—because the movie production companies are anxious to cash-in on the tremendous revenues created by MMA fans worldwide—that's why. It's his "popularity" with MMA fans that they want—not Rampage's "inner-Shakespeare."
They are simply using him.
So here's the history lesson:
Jackson was loved by MMA fans for his epic battles and entertaining personality. They all respected his "street warrior" mentality. Personally, I just enjoyed seeing him slam guys onto their heads—something that we haven't seen since his inception into the UFC.
In September 2009, Jackson wrote in a blog on his website that he was "done fighting," due to maltreatment by the UFC. Boo hoo.
Then in December 2009, Jackson informed the MMA community (again—via his web blog) that he was ready to return to the UFC to finish his contract and that he desperately wanted to fight Rashad Evans.
Dana White eagerly agreed and in specific preparation for this fight, Jackson appeared for a second time as a coach on the reality series The Ultimate Fighter opposite Evans (epic fail). Both men were initially scheduled to fight at UFC 107, but this bout was cancelled when Jackson opted to take a movie role instead, in order to play B. A. Baracus in The A-Team feature film—a "boy-hood" dream come true (puke). I like to refer to this stage of Jackson's career as "the beginning of the end."
Somehow and somewhere, Dana White and "Rampage" eventually kissed and made-up. Probably because Jackson was still under contract with the UFC and White wasn't about to make it easy on him, particularly after Jackson bailed on the UFC (and its fans), launching a painful string of pay-per-view let-downs.
At the UFC 107 press conference, White said that if Evans could defeat Thiago Silva at UFC 108, then a fight between Evans and Jackson would finally come to fruition. Okay—better late than never, I guess.
The fight against Evans would determine who would challenge Mauricio "Shogun" Rua in his first UFC Light Heavyweight title defence. To the surprise of many, Jackson ended up losing to Evans via unanimous decision. Hardly worth the hype as Jackson looked to be at his worst.
On March 24, 2010, Dana White announced that Jackson had signed a new six fight contract with the UFC.
Jackson is now expected to face Lyoto "The Dragon" Machida at UFC 123. Believe me fight fans—this fight won't be nearly as competitive as you might hope that it will be. My prediction is that Jackson will deliver another disappointing effort and get knocked out in the first round—you heard it here first.
Look—it's okay to want more from life. We all have goals (or at least we should, so if you don't have any—go get some!) and I think that it's really cool that Jackson wants bigger and better things for himself.
Seriously, I do.
The problem I have is that Jackson is foolishly burning the bridge at both ends.
He wants out of fighting?
Fine—get out!
Retire!
See ya around!
Thanks for the fond memories!
But if he thinks that by announcing to the world that his motivation (and let's not forget loyalty) have now taken a back-seat to his other aspirations, and that the fans will continue to respect and support him—he is sorely mistaken.
With every fight that Jackson completes on his newly acquired six fight contract, he will lose more and more respect from the fans who will see that his heart just isn't in it. Sure, he could try to hide it, but he's just not that good of an actor (obviously).
How many fight fans out there would give up their left nut to be able to have the opportunity to fight in the UFC just one time?
Hands up!
So once Jackson manages to alienate and disappoint all of his remaining MMA fan-base, how many movie production companies do you think will still be interested in him?
My guess: the big "Zero."
Here's some free advice for my buddy, Rampage...
Success has clearly gone to your head. Live in the moment and enjoy what you have. Stop being such an ungrateful, spoiled brat and maybe—just maybe—your "fans" will support whatever and anything that you do in this life.
I know I would.
We know that you can't fight forever and nobody is expecting you to.
But as a general consensus, fighters need to fight for the love of fighting. Money and opportunity aren't supposed to be the prime motivators. Simply the benefits that come from hard work and success.
Just don't betray us all by thinking that we don't care about such things as honesty, integrity, and the good 'ol fashioned love of punching someone in the face.
You should do whatever makes you happy and whatever you are the most passionate about. How will you know when you've found it?
:confused02:
http://www.youtube.com/watch?v=sSjOrj5O9Ks&feature=player_embedded#at=164
http://bleacherreport.com/articles/...n-drops-an-atomic-bomb-on-both-of-his-careers
Is this not a onesided article on Rampage :confused02: Let me know what you guys think!!