Discussion Starter
·
#1
·
I know this is a UFC thread but seeing how alot of people have been asking me to keep my training updated i decided to make a post.
As alot of people know i was going to be fighting in a BJJ comp, this november but i have had the oppertunity to fight in a College MMA comp instead, so i droped out of the BJJ and finally got a break from my MMA training. I will be fighting november 4th in an ameture MMA comp in Yakima Washington. I will be representing Central Washington in the 155 weight division and will hopefully have another win to my 5-1 ameture record. I have no plans on going pro right now due to the fact i have no funds to go. Anyways my arms look pretty small but i stand 5'11 right now and weigh a solid 165, i've droped weight once just because i haven't droped weight in a while and thought it would be a good idea and it was an easy 10 hours to drop that 10 pounds. Im going up a guy thats 6'1 and is basically a twig, so hopefully my submission wrestling/Kempo Jiu Jitsu/ Kickboxing/ and takedown training will all pay off. The guy im fighting is from Western Washington University and happeneds to be my rival school, ive already heard hes callin me things like small fry and baby face (im 20 but look kinda young lol) and ive taken it pretty personally seeing how its the guys first fight and hes only trained 4 months compaired to my 3 years.
So here's my latest pic from my Bedroom at college.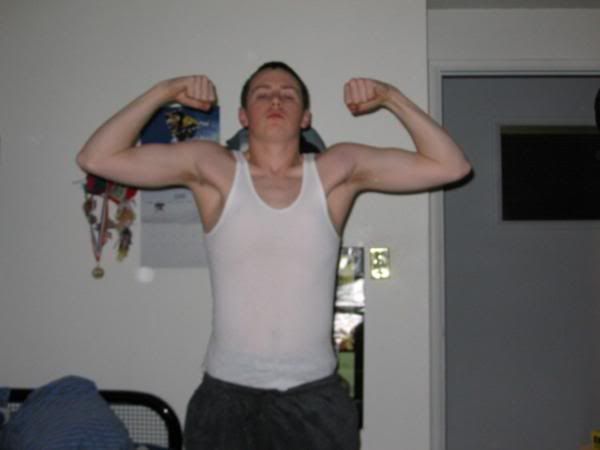 Say what ya like about me, i try to say what i mean, flame me or not i don't care the only thing that hurts me is failure and i only have ran into that once. So i'll keep ya'll updated more if ya want and maybe can provides pics or a video. Bless ya'll and for those that support me, thanks alot theres alot of doubters in my arm strength but i can still slam anyone in the 155 class and submit there ass with guiltine and TKO them with my fists and elbows. Thanks alot,
Mike "Big Guns" Ball
(Nickname came from when i worked in a lumber yard, people always made fun of me because i could lift alot but i never had the arm size, so they called me big guns)